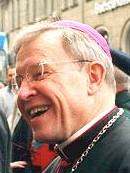 Kardinal Walter Kasper, president for det pavelige Enhetsrådet, holdt i dag en pressekonferanse, der han snakket om den økumeniske situasjonen akkurat nå. Nesten alle de positive ting som skjedde i 2006 var mellom katolikker og ortodokse, men Kasper avkreftet rykter om at Vatikanet ikke lenger var interessert i de protestantiske kirkene. (Jeg syns nå det er sjokkerende at et slikt rykte kunne oppstå i det hele tatt.)
Cardinal Kasper affirmed that last year had been particularly fruitful in ecumenical terms, with the Pope's trip to Turkey, during which he signed a joint declaration with the Ecumenical Patriarch Bartholomew I of Constantinople; and the resumption of work of the Joint International Commission for Theological Dialogue between Catholics and Orthodox.
Currently, one of the main themes is the primacy of Peter, with all the theological, canonical and even emotional problems it brings. "It is necessary to continue to pray and be patient to ensure progress in this area," said the cardinal. "For now, replies have been received from various Churches, and these are being analyzed and discussed."
On the subject of a possible meeting between Benedict XVI and Alexis II, patriarch of Moscow and all the Russias, Cardinal Kasper indicated that "for the moment nothing concrete has been decided." Relations with the Russian Orthodox Church are improving, close collaboration also exists with various dicasteries of the Roman Curia and various dioceses.
The president of the pontifical council denied that the Holy See has abandoned relations with Protestant communities, describing such rumors as "groundless insinuations." Various ecumenical delegations have been received by the Holy Father and have participated in the Wednesday general audiences.
As for forthcoming ecumenical events, the cardinal mentioned the European ecumenical meeting, due to be held at Sibiu, Romania in September; the plenary of the Joint International Commission for Theological Dialogue between Catholics and Orthodox, due to be held in Ravenna, Italy in 2007, at which it is possible the Pope may be present; and the second ecumenical congress of communities and movements, "Together for Europe," to be held in Stuttgart, Germany.