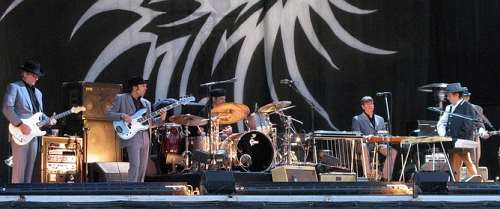 Fedag kveld var vi på konsert med Bob Dylan – jeg hører faktisk ganske mye på hans musikk. Fra Aftenbladet har jeg tatt denne oversikten over sangene han framførte – det er faktisk ikke så lett å høre, siden han framfører dem så forskjellig fra gang til gang.
«Rainy Day Woman».
«Don't think twice, it's allright».
«Rollin' and Tumblin'»
«Tangled up in Blue»
«I'll Be You'r Baby Tonight»
«High Water (For Charley Patton)».
«Just Like a Woman»
then two quiet songs (no names)
«Highway 61».
«Workingman's Blues # 2»
«It's Allright Ma».
«Beyond the Horizon»
«Summer Days»
«Masters of War».
«Thunder on the Mountain».
«Like a Rolling Stone».