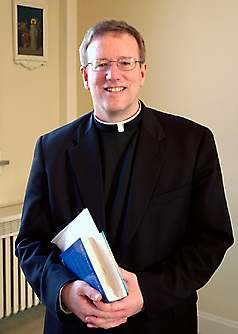 Jeg må innrømme at jeg aldri før har hørt om denne Father Robert Barron, som i videoen over forklarer fastetida ganske godt. Jeg fant lenken til denne videoen på katolsk.no, og senere har jeg funnet følgende opplysninger om ham:
Father Robert Barron is a sought-after speaker on the spiritual life-from prestigious universities to YouTube to national conferences and private retreats. The prominent theologian and podcasting priest is one of the world's great and most innovative teachers of Catholicism. His global media ministry called Word on Fire has a simple but revolutionary mission – to evangelize the culture.
Fr. Barron wokrs at University of St. Mary of the Lake/Mundelein Seminary in Mundelein, Illinois. Ordained an Archdiocesan priest in Chicago in 1986, he also has published numerous books, essays and DVDs.
Fr. Barron lectures extensively in the United States and abroad, including the Pontifical North American College at the Vatican and the Pontifical University of St. Thomas Aquinas in Rome. He also is a passionate student of art, architecture, music and history. Fr. Barron has been called "one of the Archdiocese's greatest gifts".
wordonfire.org – Fr. Barron's website launched in 1999. There Fr. Barron posts weekly video clips, commentaries and radio sermons and offers an audio archive of over 300 homilies. Podcasts of his sermons are widely used by tens of thousands of visitors each month.Les mer om ham her.