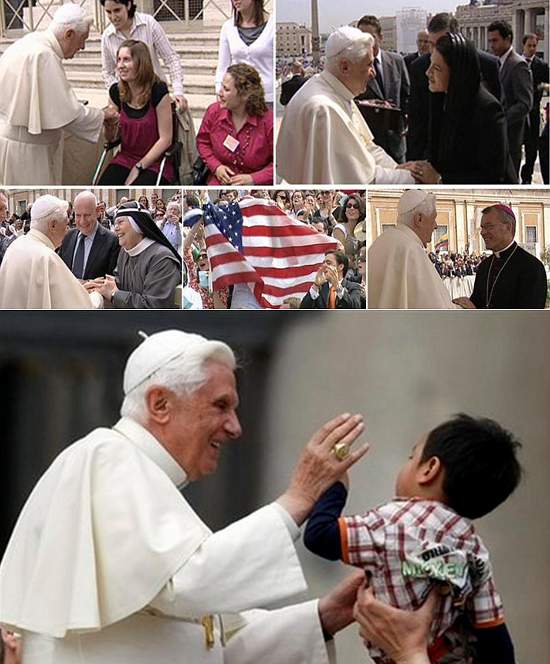 Bildet over er fra dagens onsdagsaudiens på Petersplassen – tekst og bilder jeg jeg henta fra Papa Ratzinger Forum. Paven holder ganske lange bibeltimer hver uke, og under de neste bildene kan vi lese hva han sa i dag om påskens hellige triduum, som begynner i morgen.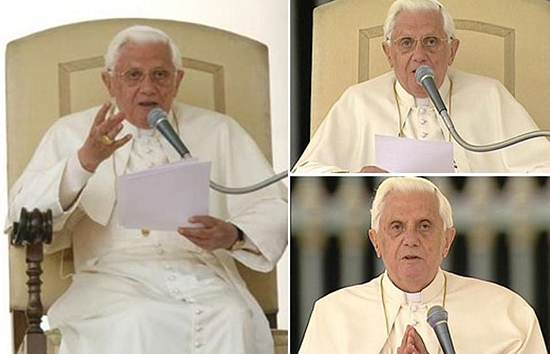 Dear brothers and sisters,
Holy Week, which for us Christians is the most important week of the year, offers us the opportunity to immerse ourselves in the central events of the Redemption, to re-live the Paschal mystery, the great mystery of the faith. Starting tomorrow afternoon, with the Mass of the Lord's Supper, the solemn liturgical rites will help us to meditate more vividly on the passion, death and resurrection of the Lord on the days of the Holy Paschal Triduum, the fulcrum of the entire liturgical year.
May the divine grace open our hearts to understanding the inestimable gift of salvation obtained for us by the sacrifice of Christ. We find this immense gift described wonderfully in the famous hymn from St. Paul's Letter to the Philippians (cfr 2,6-11), which we have meditated on many times during Lent. The apostle reviews, in a way that is as essential as it is effective, all the mystery of the story of salvation, citing the arrogance of Adam who, not being God, wished to be like God.
And he contrasts this arrogance of the first man – which all of us feel a bit in our being – the humility of the true Son of God who, having become man, except for sin, pushed himself to the depths of death. This descent to the ultimate depth of suffering and death is followed by his exaltation, true glory, the glory of love which gives to the end.
Continue reading »