Messen ble feiret søndag morgen i sakramentskapellet, og var en pontifikal høymesse feiret av erkebiskop Raymond Burke.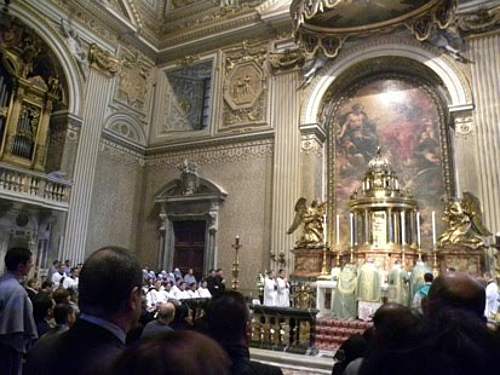 Messen ble feiret som en del av en konferanse i Roma sist helg om den tradisjonelle latinske messen (les mer om den her), og noen sier at det var første gang på 40 år at den tradisjonelle messen ble feiret i Peterskirken.
Her kan man se mange bilder fra messen, her også – og her ser man videoer fra åpning og avslutning av messen.
En som var til stede under messen nevner hvordan Credo ble avsunget: The most moving moment of the Mass (perhaps of any Mass I have ever attended) was the Credo. After Archbishop Burke intoned the Credo, the organ and schola proceeded as usual with the Mass setting. However, during the «Et incarnatus est…» the organ was silenced and the large schola broke into a mesmerizing harmony, swelling gradually to a full-throated, thundering «ET HOMO FACTUS EST.» By the time we rose from the genuflection, several near me were weeping openly.
Egentlig burde dette ikke være nytt for noen, siden det ble kunngjort flere steder, bl.a. på Rorate cæli 23. juli.
… as the culminating activity of the Second Convention on Summorum Pontificum organized by Giovani e Tradizione, a Solemn Pontifical Mass according to the classical Roman Rite will be celebrated in the Chapel of Eucharistic Adoration in St. Peter's Basilica on Sunday, October 18, 2009 at 10:00 a.m. The Mass will be offered by His Excellency, Archbishop Raymond Leo Burke, Prefect of the Supreme Tribunal of the Apostolic Signatura. Music will be provided by a mixed choir of Franciscans of the Immaculate.