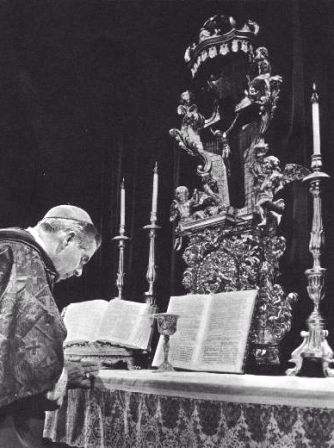 Fra Father Z's blogg:
I delved into the first of the priest's possible preparatory prayers before Holy Communion during Mass. In this preparatory prayer we find the phrase "a te numquam separari permittas… let me never be separated from You". … Nothing is more terrifying than separation from God. Nothing that can happen to the body in life is as bad as dying in the state of mortal sin. When we sin, we separate ourselves from God. If we die in that state, that is how we remain: separated. That is the essence of the state called Hell, and all Hell's unending agony derives from that separation. Break God's commandments, separate yourself from God.
Slik lyder denne bønna på norsk:
Herre Jesus Kristus, den levende Guds Sønn, som etter Faderens vilje, under den Hellige Ånds medvirkning ved din død har gitt verden livet, frels meg ved dette ditt høyhellige legeme og blod alle mine synder og fra alt ondt; gi at jeg alltid følger dine bud, og tillat ikke at jeg noensinne skilles fra deg. Du som med den samme. Gud Fader og den Hellige Ånd lever og hersker, Gud, fra evighet og til evighet. Amen.