Her er et bilde av Fr. Hunwickes første messe, torsdag i the London/ Brompton Oratory: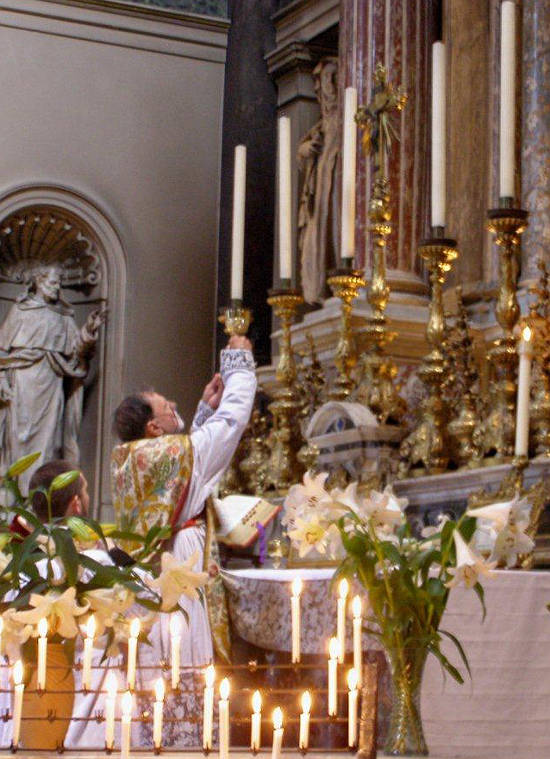 Oppdatering 30/7:
Fr Ray Blake skriver om dette på sin blogg:
I couldn't get to Fr Hunwicke's Ordination last night, at the Oxford Oratory, I heard it was very beautiful, there a few pictures here. I also heard the celebrant preached against the wickedness of "rubricism"; a little unfortunate as following them with a degree of precision is the great charism of our English Oratories.

Today however I actually met Fr Hunwicke, at the London Oratory, where he celebrated his first Mass in the Extraordinary Form at the Lady Altar. We have corresponded for some time and have friends in common and I have felt something of his pain at not being able to celebrate Mass. I recognise in him a truly priestly soul. The Mass was beautiful, it was low, no sermon, some rather exquisite vestments, over and done in 35 minutes. There were about 50 in the congregation …

I know it was Vigil in most places but in Westminster it was the Feast of St John Southwell and of course for us a celebration of a first Mass. … One of the important things I have always said about the Ordinariate which I think cradle Catholics just don't get is its humour which Fr Hunwicke supplied in heaps. … It was a really beautiful celebration for the eve of St Peter and Paul; Fr Hunwicke in communion with the Church and now a happily a priest of the Catholic Church.