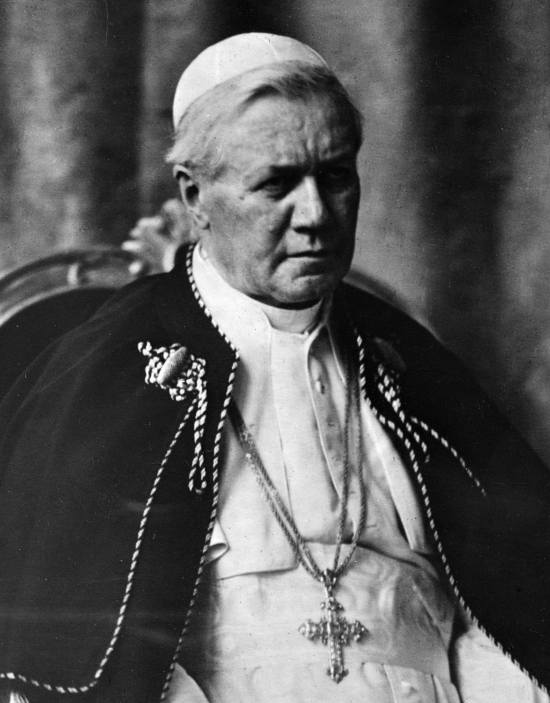 Jeg feiret nettopp messen i St Hallvard kirke, og mintes den hellige pave Pius X, siden der er 21. august. Jeg har fridag tirsdag og feirer da vanligvis en privatmesse i den tradisjonelle form, men i dag var dte ingen andre prester her, så jeg måtte feire menighetsmessen.
Og om Pius X og hans minnedag skriver katolsk.no:
… Tidlig på morgenen den 20. august 1914 døde Pius X i Roma av en lungebetennelse. Etter hans eget ønske ble han bisatt i en prunkløs sarkofag i grotten i Peterskirken. Han skrev i sitt testamente: «Jeg ble født fattig, har levd som fattig og jeg ønsker å dø fattig.»

Pius X var på mange måter dypt konservativ, og ble også ansett slik av samtidige. Men han hører også til de største og mest konstruktive reformpavene på grunn av reorganiseringen av kurien og nyordningen av kirkeretten, men særlig på grunn av den religiøse fornyelsen av Kirken han sterkt hadde fremmet. Målet for Pius Xs pontifikat, å «fornye alle ting i Kristus», kunne han langt på vei virkeliggjøre. Han karakteriseres som en «konservativ reformpave», og vil alltid ha en fremtredende plass i pavehistorien.

Pius X ble tillagt mirakler ennå mens han levde, og italienerne kalte ham allerede da «il Papa Santo». Straks etter hans død var det et inntrengende folkelig ønske om hans kanonisering. Prosessen begynte i 1923, og han ble saligkåret av Pius XII den 3. juni 1951, og den 29. mai 1954 ble han helligkåret som den første pave på 242 år. Hans minnedag var opprinnelig den 3. september, men siden 1969 er den 21. august.
Jeg vet ikke hvorfor man først (da han ble helligkåret i 1954) valgte 3. september som minnedag, men nå feires han så nær sin dødsdag som praktisk mulig. Wikipedia skriver:
Pius X's feast day was assigned in 1955 to 3 September, to be celebrated as a Double. It remained thus for 15 years. In the 1960 calendar (incorporated in the 1962 Roman Missal of Pope John XXIII, whose continued use as an extraordinary form of the Roman Rite is authorized under the conditions indicated in the motu proprio Summorum Pontificum) the rank was changed to Third-Class Feast. The rank in the General Roman Calendar since 1969 is that of Memorial and the feast day is obligatorily celebrated on 21 August, closer to the day of his death (20 August, impeded by the feast day of St Bernard).