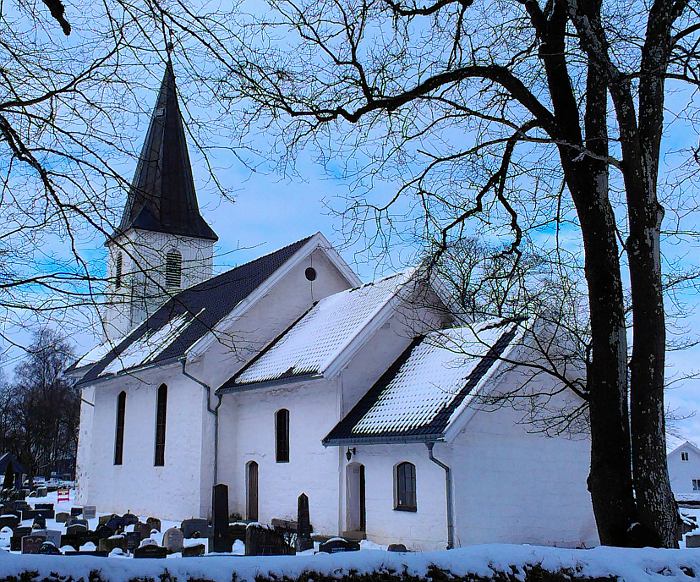 En familie i vår menighet som bor i Langhus/Ski ønsket å døpe sitt barn i Ski gamle kirke, så jeg besøkte denne kirken for først gang i mitt liv.
Om kirken – som er fra ca 1150 – kan vi lese:
Ski kirke besto opprinnelig av to deler: skip og kor. Den er bygd i en såkalt senromansk stil med massive murer, runde buer og rett avslutning på koret. Skipet har en rektangulær form og er 12,5 m langt og 7,6 m bredt. Koret er 6,5 m langt og 4,2 m bredt (innvendige mål). Murene er rundt halvannen meter tykke. Opprinnelig hadde Ski kirke bare to små vinduer på sydveggen, et i koret og et i skipet. Koret hadde egen inngang på sydveggen. Det var to innganger til skipet, en på sydveggen og en på vestveggen.

I middelalderen hadde kirken bare noen få benker langs veggene. De fleste i menigheten sto under hele gudstjenesten. Mennene stod på sydsiden og kvinnene på nordsiden i skipet.

Det fantes ikke annet lys i skipet enn det som slapp inn gjennom det lille vinduet høyt oppe på sydveggen. Koret var derimot opplyst av en rekke vokslys. Korbuen var langt trangere i middelalderen enn i vår tid. Menigheten så derfor bare noe av det som skjedde der framme.

Av gjenstander fra middelalderen, er det bare døpefonten som er bevart. Den er lagd i kleberstein og er trolig like gammel som kirken. Opprinnelig sto døpefonten ved vestre inngang. Her kunne udøpte bli døpt før de kom helt inn i kirken.
Les mer om kirken her. Bilde av den gamle døpefonten under.