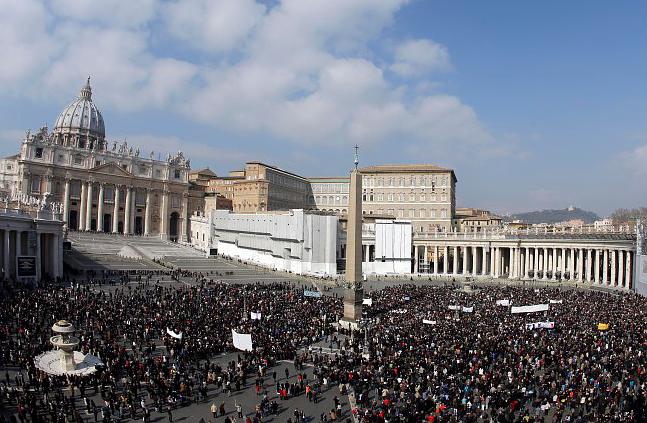 Ved pave Benedikts nest siste Angelus på Petersplassen tidligere i dag var det ekstra mange til stede, som hørte paven si bl.a.:
Pope Benedict XVI prayed the Angelus with the faithful in St Peter's Square this Sunday, the first Sunday of Lent. Tens of thousands of pilgrims were on hand, beneath a bright and unseasonably warm Roman sky. Speaking from his window in the Apostolic Palace above the Square ahead of the traditional prayer of Marian devotion, the Holy Father placed the Lenten season on which the Church is embarked in the context of the Year of Faith. "In this Year of Faith," he said, "Lent is a favorable time to rediscover the faith in God as the basic criterion of our life and the life of the Church."

The Pope went on to say that this always involves a struggle – a real spiritual combat – because the spirit of evil that is opposed to our sanctification seeks to throw us off the path that God has set out for us. Noting that it is for this reason that the Church traditionally proclaims the Gospel narrative of Christ's temptation in the desert on the first Sunday of Lent, Pope Benedict said, "The tempter is subtle: he does not push us directly toward evil, but to a false good." The Holy Father went on to explain that, ultimately, what is at stake in the temptations is faith. "In the decisive moments of life," he said, "but, if we look closely, in every moment, we are at a crossroads: do we want to follow the self, or God?" It was a theme to which Pope Benedict returned during his greetings to Pilgrims in English:

Today we contemplate Christ in the desert, fasting, praying, and being tempted. As we begin our Lenten journey, we join him and we ask him to give us strength to fight our weaknesses. Let me also thank you for the prayers and support you have shown me in these days. May God bless all of you!
(Kilde: Vatikanradioen)