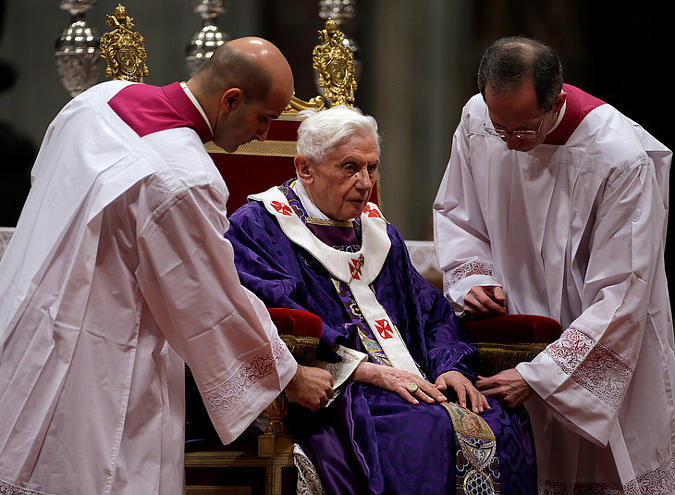 Messen i Peterskirken i dag, askeonsdag, var siste peken pave Benedikt ga som pave. Hele prekenen kan leses her, og den ble avsluttet slik:
…. In the Gospel of Matthew, to which belongs the so-called Sermon on the Mount, Jesus refers to three fundamental practices required by Mosaic Law: almsgiving, prayer and fasting; they are also traditional indications in the Lenten journey to respond to the invitation to "return to God with all your heart." But Jesus emphasizes that it is both the quality and the truth of the relationship with God that determines the authenticity of each religious gesture. For this reason He denounces religious hypocrisy, the behavior that wants to be seen, attitudes seeking applause and approval. The true disciple does not serve himself or the "public", but his Lord, in simplicity and generosity: "And your Father, who sees in secret, will reward you" (Mt 6:4.6.18). Our witness, then, will always be more effective the less we seek our own glory, and we will know that the reward of the righteous is God himself, being united to Him, here below, on the journey of faith, and, at the end of life, in the peace and light of coming face to face with Him forever (cf. 1 Cor 13:12).

Dear brothers and sisters, we begin our Lenten journey, trusting and joyful. May the invitation to conversion resonate strongly in us, to "return to God with all your heart", accepting His grace that makes us new men, with the surprising novelty that is sharing in the very life of Jesus. Let none of us, therefore, be deaf to this appeal, that is addressed to us also in the austere rite, so simple and yet so beautiful, of the imposition of ashes, which we will perform shortly. May the Virgin Mary accompany us in this time, the Mother of the Church and model of every true disciple of the Lord. Amen!