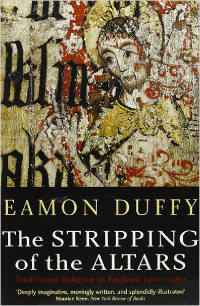 Jeg har i helga lest gjennom andre del av Eamon Duffys bok The Stripping of the Altars. Her går Duffy gjennom kirkelivet i England i de dramatiske årene fra ca 1530, da kong Henry VIII absolutt ville skille seg fra sin kone, til noen år uti regjeringstida til dronning Elizabeth (fra 1559), da protestantismen gradvis hadde fått fotfeste.
Duffy skriver et nytt forord til denne 2. utgaven i 2005, og beskriver der grundig hvordan forståelsen av den kirkelige utviklinga i England disse tiårene har endret seg dramatisk siden 1. utgaven av boka kom ut i 1992. Da mente man fortsatt at folk flest i England lengtet etter den protestantiske tro, mens Duffy (og dette synet har nå fått gjennomslag) viser at det var etter hardhendt og langvarig press at den katolsk tro måtte vike.
Jeg kjøpte denne boka våren 2013 og leste første del av den da – se her.
Jeg studerer for øyeblikket aller mest hvordan forståelsen av messen var på denne tid, og Duffy skriver de første 300 sidene av boka om praktisk menighetsliv i England på 1400-tallet og fram til 1530. Dette leste jeg i 2013, men jeg har nå lest på nytt det han skriver om hvordan messen forstås og oppleves.