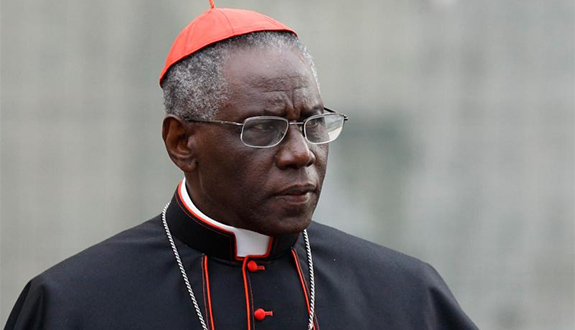 The Catholic World Report har et langt intervju med kardinal Robert Sarah, i forbindelse med boken "La Force du Silence" han nylig fikk utgitt. De introduserer intervjuet slik: In a wide-ranging interview with "La Nef", Cardinal Sarah discusses his new book, published in France, saying, "By living with the silent God, and in Him, we ourselves become silent." Og i intervjuet finner vi bl.a. følgende spørsmål og svar:
After your conference in London last July, you are returning to the topic of the orientation of the liturgy and wish to see it applied in our churches. Why is this so important to you, and how would you see this change implemented?

Cdl. Sarah: Silence poses the problem of the essence of the liturgy. Now the liturgy is mystical. As long as we approach the liturgy with a noisy heart, it will have a superficial, human appearance. Liturgical silence is a radical and essential disposition; it is a conversion of heart. Now, to be converted, etymologically, is to turn back, to turn toward God. There is no true silence in the liturgy if we are not—with all our heart—turned toward the Lord. We must be converted, turn back to the Lord, in order to look at Him, contemplate His face, and fall at His feet to adore Him. We have an example: Mary Magdalene was able to recognize Jesus on Easter morning because she turned back toward Him: "They have taken away my Lord, and I do not know where they have laid him." "Haec cum dixisset, conversa est retrorsum et videt Jesus stantem. – Saying this, she turned around and saw Jesus standing there" (Jn 20:13-14).

How can we enter into this interior disposition except by turning physically, all together, priest and faithful, toward the Lord who comes, toward the East symbolized by the apse where the cross is enthroned?

The outward orientation leads us to the interior orientation that it symbolizes. Since apostolic times, Christians have been familiar with this way of praying. It is not a matter of celebrating with one's back to the people or facing them, but toward the East, ad Dominum, toward the Lord.

This way of doing things promotes silence. Indeed, there is less of a temptation for the celebrant to monopolize the conversation. Facing the Lord, he is less tempted to become a professor who gives a lecture during the whole Mass, reducing the altar to a podium centered no longer on the cross but on the microphone! The priest must remember that he is only an instrument in Christ's hands, that he must be quiet in order to make room for the Word, and that our human words are ridiculous compared to the one Eternal Word.

I am convinced that priests do not use the same tone of voice when they celebrate facing East. We are so much less tempted to take ourselves for actors, as Pope Francis says!

Of course, this way of doing things, while legitimate and desirable, must not be imposed as a revolution. I know that in many places preparatory catechesis has enabled the faithful to accept and appreciate the orientation. I wish that this question would not become the occasion for an ideological clash of factions! We are talking about our relationship with God.

As I had the opportunity to say recently, during a private interview with the Holy Father, here I am just making the heartfelt suggestions of a pastor who is concerned about the good of the faithful. I do not intend to set one practice against another. If it is physically not possible to celebrate ad orientem, it is absolutely necessary to put a cross on the altar in plain view, as a point of reference for everyone. Christ on the cross is the Christian East.