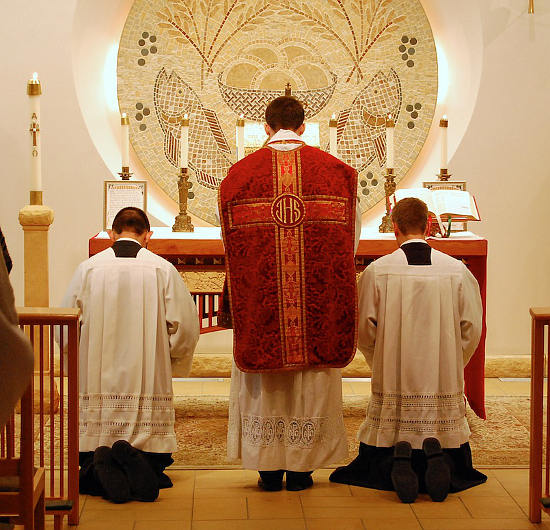 I dag er det ti år siden den tradisjonelle katolske messen fritt kunne feires av alle katolske prester. Tre av mine prestevenner i Norge feirer i dag en (sikkert veldig høytidelig) høymesse/levittmesse (med prest, diakon og subdiakon), mens min messe nok blir av det enkle slaget. Pave Benedikts motu proprio (dokument på egnet initiativ) kan leses her – og under ser man et lite utdrag.
POPE BENEDICT XVI
APOSTOLIC LETTER GIVEN MOTU PROPRIO
SUMMORUM PONTIFICUM
ON THE USE OF THE ROMAN LITURGY PRIOR TO THE REFORM OF 1970

…
Art. 2. In Masses celebrated without a congregation, any Catholic priest of the Latin rite, whether secular or regular, may use either the Roman Missal published in 1962 by Blessed Pope John XXIII or the Roman Missal promulgated in 1970 by Pope Paul VI, and may do so on any day, with the exception of the Easter Triduum. For such a celebration with either Missal, the priest needs no permission from the Apostolic See or from his own Ordinary. …

…
We order that all that we have decreed in this Apostolic Letter given Motu Proprio take effect and be observed from the fourteenth day of September, the Feast of the Exaltation of the Holy Cross, in the present year, all things to the contrary notwithstanding.