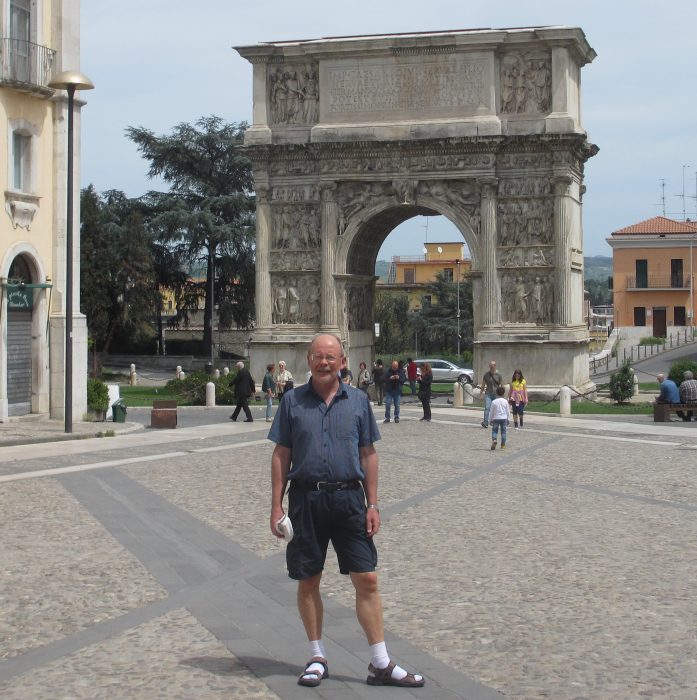 På vei fra Cassino til Matera tirsdag kjørte vi gjennom Benevento og stoppet for å se på den berømte Trajanbuen (som vi vel ikke hadde hørt om før). Engelske Wikipedia skriver om buen (den norske utgaven har ikke noe om dette):
The Arch of Trajan is an ancient Roman triumphal arch in Benevento, southern Italy. It was erected in honour of the Emperor Trajan across the Via Appia, at the point where it enters the city.

The arch was built between 114 and 117.

In Lombard times, it was incorporated into the southern sector of the city walls and became known as Porta Aurea ("Golden Gate"). The church of Sant'Ilario, now housing the Videomuseum of the Arch, was built nearby. The arch was studied by Gianmarco Serlio in Renaissance times and drawn by Giovanni Battista Piranesi in the 18th century.

It was restored several times due to aging and earthquakes: under Pope Urban VIII, then in 1661, 1713 (after the marble architrave crumbled) and 1792. In 1850, on the occasion of Pope Pius IX's visit to Benevento, it was isolated through demolition of the adjoining buildings.
Utsnittet under viser keiser Trajan, vel i samtale med senatorer, guddommer i bakgrunnen.