Etter et annet innlegg på denne bloggen – SE HER – er det oppstått en debatt om kirkearkitektur/-innredning. Jeg tar med noen av de siste kommentaren derfra under, og viser også bilder av St Paul kirke i Bergen i 1920, 1975 og 2007 (som jeg skrev mer om HER i februar 2008).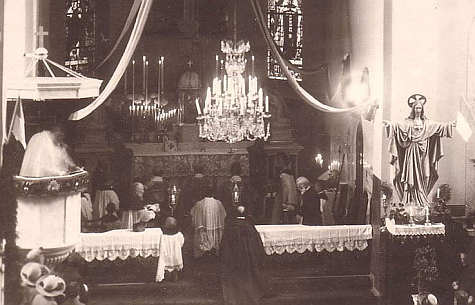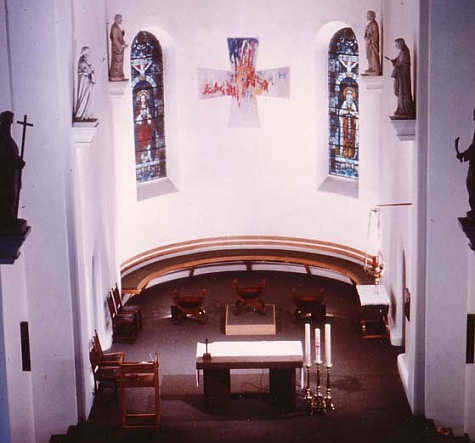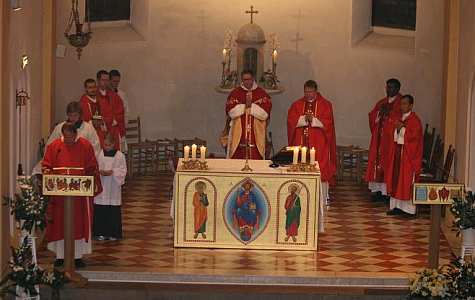 Her er de siste kommentarene (som jeg nevnte over):
Dersom interiøret i St. Paul (som jeg aldri har sett selv, siden jeg knapt har satt min fot i Bergen) er en "underlig miks" av mange forskjellige ting, høres det snarere mer postmoderne ut… Bortsett fra at postmoderne arkitektur vel er en bevisst miks av forskjellige ting, mens gamle kirker som ble "modernisert" rundt 1970 snarere faller inn under slikt som dagens antikvariske myndigheter ville klassifisere som delvis raserte kulturminner.
Forøvrig er slike frittstående altere som du beskriver, nettopp det som menes med "alterbord" eller "bordalter". Det har aldri, meg bekjent, vært slik at "alteret er som regel plassert i midten av menigheten, men presteskap og menighet rundt" – det var en innovasjon fra 1970-tallet. En såpass ny kirke som St. Hallvard i Oslo (fra 1960-tallet) har det ikke, mens St. Thomas i Lund (som jeg tror er fra 1970-tallet) vel har det slik som du beskriver.
——–
En bok om moderne kirkearkitektur som jeg anbefaler på det varmeste er "No place for God. The denial of the transcendent in modern church architecture" av Moyra Doorly. Det er en profesjonell og interessant analyse av ideologien bak postkonsiliær kirkearkitektur (og ellers mange bilder av postmoderne kirker og altere som ble endret etter konsilet):
"The image of the "People of God gathered around the altar", which the Modernists have advanced as the inspiration for the new church building, could only be possible in a Relativist universe in which no absolute or objective truth can be said to exist out there and in which all reality is subjectively determined." – "That the twentieth-century revolution in church architecture cannot be considered separately from the revolution in the Church's liturgy is admitted by the promoters of the revolution themselves, who insist that a new church building is required for a new liturgy."
—-
Jeg noterer meg at du ikke har vært i St. Paul kirke (i Bergen). Hadde du vært der på 1980-tallet, ville du sett en enhetlig og minimalistisk utsmykket kirke innvendig (mens den er veldig tradisjonell utvendig). I sentrum av kirken sto alteret og et flott kors (som en slags altertavle) malt av kunstneren J. Weidemann. Jeg vil kalle denne utsmykkingen "modernistisk"—uten noen negative konnotasjoner, og absolutt uten referanse til det du kaller "kommunistisk retorikk".
I dag har en forsøkt å reversere den "modernisering" av St. Paul kirke som ble foretatt på 1970-årene. Det hele ser veldig lite gjennomtenkt ut. Det er dette jeg kaller "reaksjonært", dvs. forsøket på å reversere en utvikling. Det fremstår som anstrengt konservativt. Hadde nå dette forsøket enda resultert i en total restaurering av kirken til slik bygningen var ca. 1900, så hadde det vært greit nok. Men resultatet i dag forekommer meg å være alt annet enn stilrent. Hvor er det blitt av det minimalistiske, stilrene og svært majestetiske kirkerommet med den sterkt kristosentriske utsmykningen? …
Og til slutt: Jeg har aldri ment at en bokstavelig talt skulle plassere både presteskap og menighet rundt bordet. Det er ikke noe "mensa rotunda" vi snakker om her. Poenget med å feire messen med alteret mellom menighet og presteskap er at en skal få frem at vi alle er kalt til Herrens bord. Dette "bordet" er både alter og nattverdsbord. For en grei innføring i Den hl. messe vil jeg anbefale Johannes van der Burgs bok Læren om Alterets sakrament. Boken inneholder også en kort forklaring av messen. Boken ble utgitt i 1972, og selv om den er skrevet etter at NO var innført i Norge, så burde den være like aktuell for dem som foretrekker TLM eller enda eldre (katolske) riter. For den sakramentale handlingen har jo hele tiden vært den samme. (RED: Les van der Burgs hefte HER.)