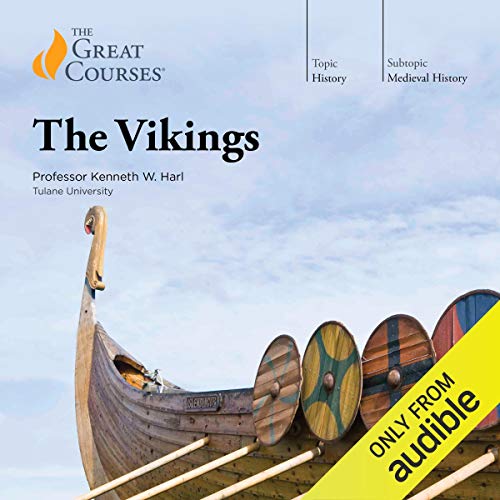 Jeg kjøpte denne lydboka for 4-5 år siden, men først nå fikk jeg hørt gjennom den grundig. Den var interessant og tok opp mange flere kulturelle trekk ved vikingene enn jeg hadde regnet med; bl.a. dere bosettninger og innflytelse på Island, Irland, Normandie og Ukraina/Russland. Audible skriver om boka:
As raiders and explorers, the Vikings played a decisive role in the formation of Latin Christendom, and particularly of western Europe.

Now, in a series of 36 vivid lectures by an honored teacher and classical scholar, you have the opportunity to understand this remarkable race as never before, studying the Vikings not only as warriors, but in all of the other roles in which they were equally extraordinary – merchants, artists, kings, raiders, seafarers, shipbuilders, and creators of a remarkable literature of myths and sagas. Professor Harl draws insights from an astonishing array of sources: The Russian Primary Chronicle (a Slavic text from medieval Kiev), 13th-century Icelandic poems and sagas, Byzantine accounts, Arab geographies, annals of Irish monks who faced Viking raids, Roman reports, and scores of other firsthand contemporary documents.

Among the topics you'll explore are the profound influence of the Norse gods and heroes on Viking culture and the Vikings' extraordinary accomplishments as explorers and settlers in Iceland, Greenland, and Vinland. And with the help of archaeological findings, you'll learn to analyze Viking ship burials, rune stones and runic inscriptions, Viking wood carving, jewelry, sculpture, and metalwork. By the end of the series, you'll have a new understanding of what it meant to be a Viking and a richer appreciation of this remarkable race – a people who truly defined the history of Europe, and whose brave, adventurous, and creative spirit still survives today.