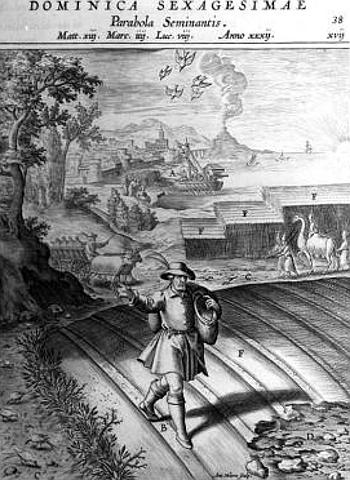 I den tradisjonelle kalender feires i dag søndag sexagesima; såmannssøndagen, og vi hører følgende evangelium:
Luk. 8, 4-15.
På den tid da det hadde samlet seg mye folk, og det løp mange fra byene til Jesus, sa han i en lignelse: «En såmann gikk ut og sådde sin sæd, og da han sådde, falt noe langs med veien og ble tråkket ned, og himmelens fugler åt det opp. Og noe falt på stengrunn, og da det vokste opp, visnet det fordi det ikke hadde væte. Og noe falt mellom torner, og tornene vokste opp sammen med det og kvalte det. Og noe falt i god jord, og da det vokste opp, ga det hundre fold.» Da han hadde sagt dette, ropte han: «Den som har ører å høre med, han høre.» Men hans disipler spurte ham hva denne lignelsen skulle bety. Han sa til dem: «Dere skal få vite hemmeligheten i Guds rike; men de andre får det i lignelser, forat de skal se og likevel ikke se, høre og ikke forstå. Dette er lignelsen: Sæden er Guds ord. Det langs med veien er de som hører, men så kommer djevelen og tar ordet bort fra deres hjerte, så de ikke skal tro og bli frelst. Det på stengrunnen er de som tar imot ordet med glede når de hører det, men de har ingen rot; de tror for en tid, men i prøvestunden faller de fra. Men det som falt mellom torner, er de som hører, men kveles mens de vandrer under sorger og rikdom og livets lyst, og bærer ikke frukt. Men det i den gode jorden er de som hører ordet med et godt og edelt hjerte og tar vare på det, og de bærer frukt i tålmod.»
Om denne tesketn skriver Den hellige Gregor den store (til Matutin):
Homily by Pope St Gregory the Great. 5th on the Gospels.
Dearly beloved brethren, the passage from the Holy Gospel which ye have just heard, needeth not so much that I should explain it, as that I should seek to enforce its lesson. The Truth Himself hath explained it, and, after that, it beseemeth not man's frailty to fritter away His exposition by any further comment. But there is, in that very explanation by the Lord, somewhat, which it behoveth us well to weigh. If it were but we who bade you believe that by the seed is signified the word; by the field, the world; by the birds, the devils; and by the thorns, riches ye would perchance doubt of the truth of our explanation. Therefore the Lord Himself hath vouchsafed to give this explanation, and that, not for this parable only, but that ye may know in what manner to interpret others, whereof He hath not given the meaning.