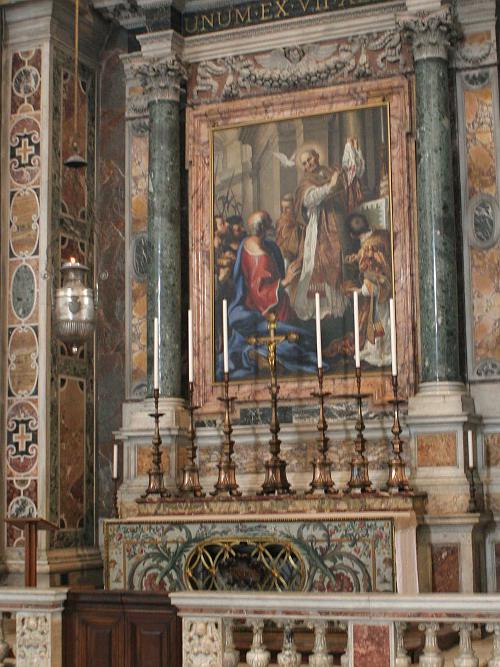 I dag var det uvanlig få mennesker ved og i Peterskirken, både i sikkerhetskontrollen og inne i kirken. Det gikk derfor raskt da jeg kom for å feire messe kl 07.30, og jeg ble ført til et alter som vanligvis er opptatt. Det er alteret der den hellige pave Gregor den store (590-604) ligger – se bilde over. Slik kan vi lese om alteret:
Beneath the altar lies a white marble sarcophagus containing the relics of Pope St. Gregory the Great (590-604), Doctor of the Church. He was the first Pope to adopt the title «servant of the servants of God.»

The mosaic altarpiece representing The Miracle of St. Gregory dates from 1772. It was inspired from an original painting by Andrea Sacchi dated 1627. Here the Holy Pope is depicted in the act of cutting a linen cloth that had been on St. Peter's tomb which suddenly bled.
Les om alteret her – se også oversikt over alle alter i kirken.