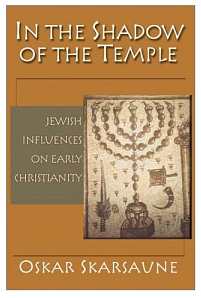 Jeg besøkte søndag ettermiddag min studiekamerat Torkild Masvie, som jeg sist så i Jerusalem for 15 år siden. Det var et hyggelig møte, der vi bl.a. snakket om det arbeidet Torkild hadde drevet på Caspari-senteret i Jerusalem. Han fortalte at Oskar Skarsaune har begynt på en viktig bokserie om forholdet mellom den kristen kirken og jødene – bøker som jeg skal prøve å få tak i så snart som mulig.
Boken "In the Shadow of the Temple" ble utgitt i 2002 og neste bok "Jewish Believers in Jesus: The Early Centuries" er klar i juni i år. Begge kan kjøpes på Amazon.
Forøvrig har Torkild startet et svært så dristig prosjekt i Oslo ved å stifte "Den lutherske kirke i Norge", også kalt Messiaskirken.