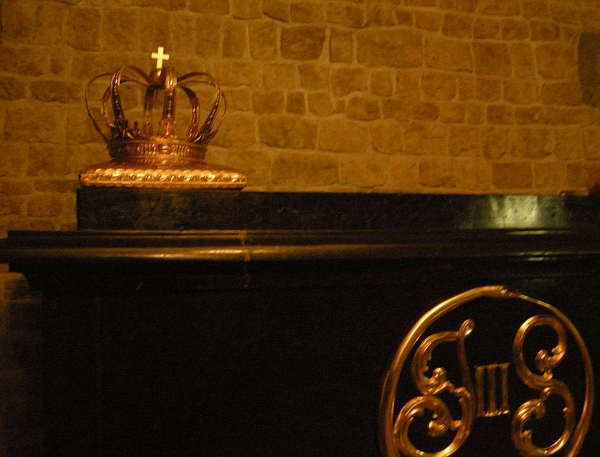 Bildet over viser sarkofagen (under Wawel-katedralen i Krakow) av den berømte kongen Jan III Sobieski som 12. september 1683 vant et svært avgjørende slag mot tyrkerne utenfor Wien, og dermed gjorde ende på tyrkerne flerehundreårige trussel mot det kristne Europa. Det er litt underlig at dette avgjørende slaget så sjelden huskes i vår tid.
I norsk Wikipedia leser vi om ham:
Jan III Sobieski av huset Sobieski (født 17. august 1629, død 17. juni 1696) var en av de mest fremtredende monarker i Polen-Litauen, som konge av Polen og storhertug av Litauen fra 1674 til sin død. (Jeg visste ikke før mitt besøk i Polen nylig, at det i flere hundre år hadde vært en union mellom Litauen og Polen.)
Sobieskis 22 år lange styre innledet en periode med stabilisering i realunionen etter «den svenske syndefloden» (svenskelene herjet også her, men Maria-helligdommen i Szestochowa klarte de mirakuløst nok ikke å innta) . Han var populær blant sine undersåtter og var også en fremragende militærleder, mest kjent for å ha seiret over tyrkerne i 1683 i slaget ved Wien. For sine seirer over det osmanske riket ble han gitt oppnavnet «Lehistans løve» av tyrkerne og «Troens vokter» av de kristne.
Enda mer stoff finner vi om ham (på engelsk) HER. Bildene under viser kongen som holder brevet kan skal sende til paven for å fortelle om seieren, og det siste bildet viser Wien under det store slaget.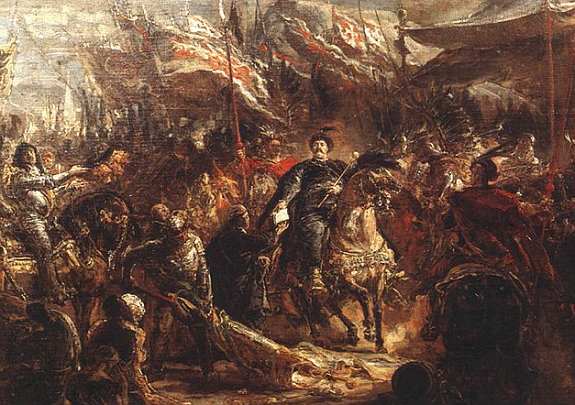 Slik beskrives selve slaget:
Upon reaching Vienna, he joined up with the Austrians and Germans. Sobieski had planned to attack on the 13th of September, but with Turkish undermining efforts being close to succeeding, he ordered full attack on September 12. At 04:00 a united army of about 81,000 men attacked a Turkish army that numbered about 130,000 men which were divided between attacking the town walls and fighting off the united army. At about five o'clock in the afternoon, after observing the infantry battle from the hilltop, Sobieski led four husaria cavalry groups into a charge down the hillside. Soon, the Turkish battle line was broken and the Ottoman forces scattered in confusion. At 17:30, Sobieski entered the deserted tent of Kara Mustafa and the battle of Vienna was over.