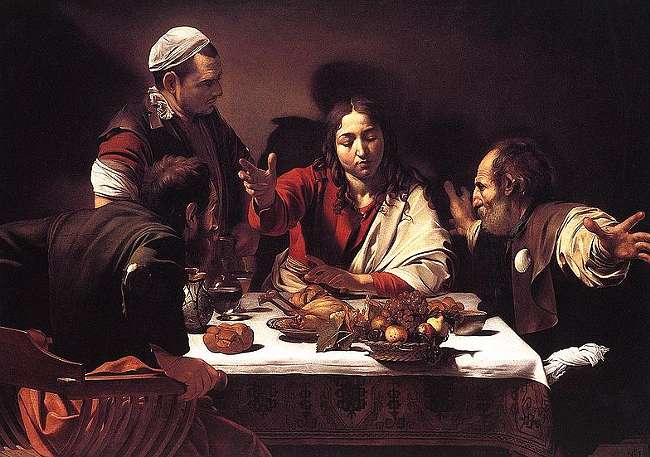 Evangelieteksten for denne 3. søndagen i påsketida tar utgangspunkt i Jesu møte med to disipler i Emmaus (se Caravaggios bilde av dette over), og går så videre og forteller om Jesu møte med apostlene i Jerusalem (Lukas 24, 35-48):
På den tid kom de to disiplene tilbake fra Emmaus og fortalte om det som hadde hendt på veien og hvordan de hadde kjent ham igjen da han brøt brødet. Mens de talte om dette, stod han selv der midt iblant dem og sa: "Fred være med dere!" Forskrekket og engstelige trodde de det var et gjenferd. Men han sa til dem: "Hvorfor er dere redde? Og hvordan kan dere tvile fremdeles? Se på mine hender og mine føtter: Det er jo meg. Rør ved meg og se selv: Et gjenferd har da ikke kjøtt og knokler, som dere ser jeg har." Men fremdeles stod de der fulle av vantro og undring – de våget ikke tro for bare glede. Da sa Jesus: "Har dere noe å spise?" De gav ham et stykke stekt fisk, og han tok det og spiste mens de så på. Derpå sa han: "Det var dette jeg mente når jeg sa til dere, den tiden vi var sammen, at alt det som står skrevet om meg – i Moseloven, hos profetene og i Salmene – måtte oppfylles." Så åpnet han deres forstand for Skriftene, og sa til dem: "Slik står det altså skrevet: Messias skal lide døden og stå opp fra de døde på den tredje dag, og så skal det forkynnes i hans navn, fra Jerusalem av ut blant alle folkeslag, at de skal vende om og få sine synder tilgitt. Om dette skal nå dere være vitner."
Les alle søndagens tekster og bønner/antifoner.