Bloggen upsidedown skriver om at relikviene av Therese av Lisieux i disse dager er i England, og at de vekker stor interesse.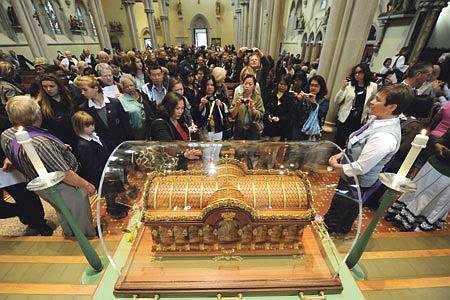 Han skriver: What are we to make of the extraordinary influence of the relics of this young girl? First, it is interesting how much she foresaw. She predicted that her body would not be corrupt so that her relics might be venerated. Nevertheless, when her coffin was opened the crowds reported supernatural fragrance of roses. When I lived in England I met a woman who's mother was present at the exhumation and who testified to this phenomenon.
There is more to it however. Therese also said on her deathbed that she believed God had granted all her desires. Well, one of her most fervent desires was to be a missionary. She longed to travel to every country of the earth singing the praises of God and proclaiming his mercy to the nations. In God's strange providence we see this desire coming true through the regular pilgrimages of her relics around the world. They say 'if stones could speak'. They might as well say, 'if bones could speak' for in this young girl they do.
There is more to it however. Mother Teresa took her name in religion from Therese–not from Teresa of Avila. Therefore, the missionary desire of Therese was brought to fulfillment in the little nun from Albania and her order: Missionaries of Charity. Not only does the title of this famous order refer to 'charity' as 'charitable work' but it also refers to the greater theological virtue of charity, and this too references back to Therese.

Les mer om Therese (på norsk) her.