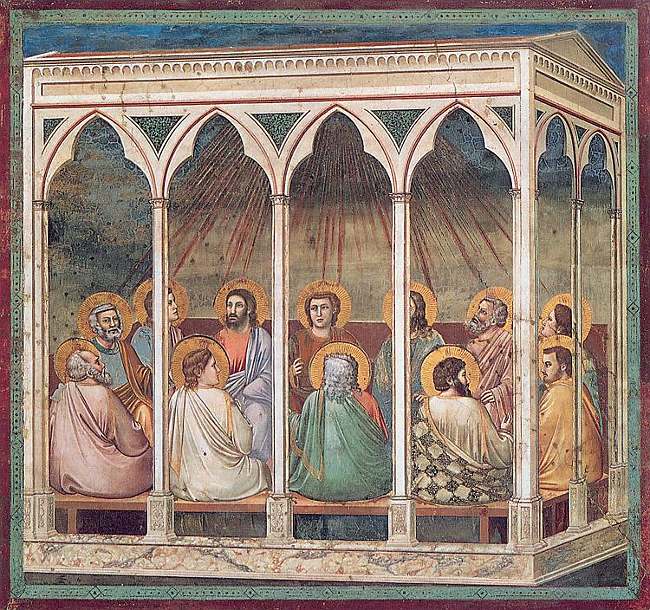 Father Z har et informativt innlegg om pinsedagens kollektbønn i den gamle og den nye messen (hvorfor man valgte å bytte bønnen ut er uklart for meg):
Kollektbønn etter messeboken fra 1962:
Deus, qui corda fidelium
Sancti Spiritus illustratione docuisti:
da nobis in eodem Spiritu recta sapere,
et de eius semper consolatione gaudere.
(En mest mulig ordrett oversettelse til engelsk:)
O God, who taught the hearts of the faithful
by the light of the Holy Spirit,
grant to us, in the same Spirit,
to know the things that are right,
and to rejoice always in His consolation.
Kollektbønn etter messeboken fra 2002 (3. utgave av novus ordo):
Deus, qui sacramento festivitatis hodiernæ
universam Ecclesiam tuam
in omni gente et natione sanctificas,
in totam mundi latitudinem Spiritus Sancti dona defunde,
et, quod inter ipsa evangelicæ prædicationis exordia
operata est divina dignatio,
nunc quoque per credentium corda perfunde.
(En mest mulig ordrett oversettelse til engelsk:)
O God, who by the mystery of today's feast
sanctify Your universal Church in every people and nation,
pour down upon the whole breadth of the earth the gifts of the Holy Spirit,
and, because divine worthiness was at work
amongst the very beginnings of the preaching of the Gospel,
make them now to flow also through the hearts of believers.
På norsk lyder denne bønna slik:
Barmhjertige, nådige Gud, ved denne pinsefest
helliggjør du din Kirke blant alle verdens folkeslag.
Utøs Den Hellige Ånds gaver over all jorden,
og la Åndens kraft som virket da Evangeliet først ble forkynt,
i dag fylle dine troendes hjerter. Ved vår Herre…
Hele messen på norsk kan leses her.