I et innlegg hos FirstThings kan vi lese flere utdrag Peter Seewalds intervju med paven. Her er litt av det: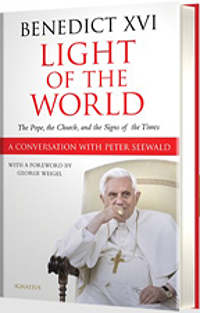 On the Abuse Scandal …

On the Possibility of Papal Resignation …

On Papal Pronouns (I /We) …

On the Tridentine Mass

Liturgy, in truth, is an event by means of which we let ourselves be introduced into the expansive faith and prayer of the Church. This is the reason why the early Christians prayed facing east, in the direction of the rising sun, the symbol of the returning Christ. In so doing, they wanted to show that the whole world is on its way toward Christ and that he encompasses the whole world. This connection between heaven and earth is very important. It was no accident that ancient churches were built so that the sun would cast its light into the house of God at a very precise moment. . . .

[S]omeone didn't just one day invent the liturgy, but that it has been growing organically since the time of Abraham. These kinds of elements from the earliest times are still present in the liturgy.

Concretely, the renewed liturgy of the Second Vatican Council is the valid form in which the Church celebrates liturgy today. My main reason for making the previous form more available was to preserve the internal continuity of Church history. We cannot say: Before, everything was wrong, but now everything is right; for in a community in which prayer and the Eucharist are the most important things, what was earlier supremely sacred cannot be entirely wrong. The issue was internal reconciliation with our own past, the intrinsic continuity of faith and prayer in the Church.

On the Tridentine petition for the conversion of the Jews …

On AIDS and Condoms …

On the Eucharistic Drama …

On the Future of Christianity …
Den fins også en offisiell blogg om denne boka.