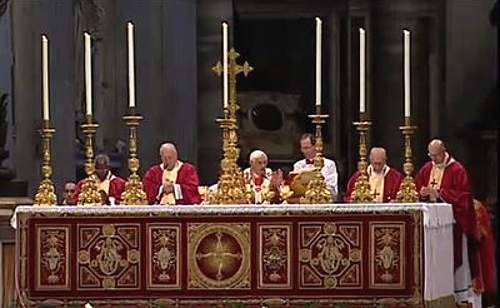 Pave Benedikt ønsker, som de fleste vet, at messen helst skal feires mot apsis/øst, og gjør også dette regelmessig i sitt private kapell. Men samtidig ønsker han ikke for mye uro rundt (han husker vel det som skjedde rundt 1970 altfor godt), og anbefaler (og gjennomfører alltid selv) at man feirer messen vendt mot et (ganske stort og tydelig) krusifiks. Også i Norge er det mange prester som følger hans eksempel her.
Men ikke alle liker dette. På en (ganske liberal, må jeg si) liturgiblogg – Pray Tell (som jeg leser ganske regelemessig) – har en teologiprofessor og permanent diakon antydet at dette (nesten eller egentlig) kan kalles avgudsdyrkelse:
"If I were to put this polemically, which of course I would never do, I would say that identifying the crucifix rather than the Eucharist as the point of orientation skirts the edge of idolatry. This point seems so obvious to me that I wonder what is going on with those who continue to put forward the idea of common orientation toward the crucifix. Could this be a case of a poor idea gaining momentum simply because it has been suggested by an authoritative source (i.e. Pope Benedict)."
Jeg leste dette for et par dager siden, men ble inspirert til å legge det ut på bloggen etter at jeg leste om det også her.