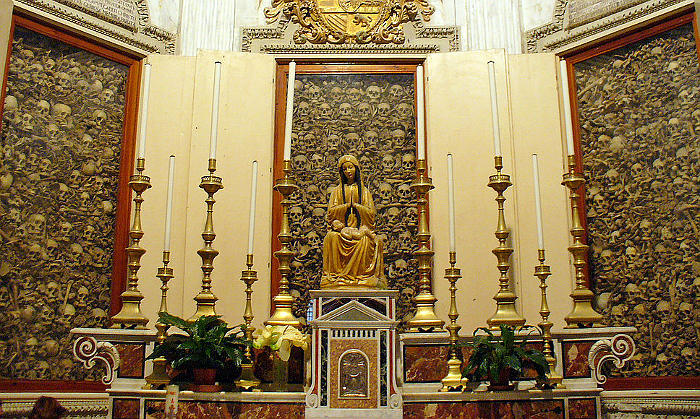 Før pave Benedikt kunngjorde sin svært overraskende avgang, mandag 11. februar, hadde han kunngjort at de litt over 800 martyrene fra Otranto (som jeg besøkte i 2006, og så kapellet over), nå skal helligkåres. Slik leser vi om dem på Wikipedia:
On 28 July 1480 an Ottoman force of 90 galleys, 40 galeottes and other ships (carrying a total of around 150 crew and 18,000 troops) from Valona landed its force beneath the walls of Otranto. The city strongly resisted the Ottoman assaults, but it only contained around 6,000 inhabitants and was unable to resist the bombardment for long. … …

… The townsfolk's leader was now the old tailor Antonio Pezzulla, known as Il Primaldo, who also refused to convert to Islam. On 14 August Pasha tied up the survivors and transported them to the nearby colle della Minerva, where at least 800 were beheaded, with their parents and families forced to assist in and attend the executions. Primaldo was the first to be beheaded – tradition holds that his decapitated body remained standing until the final person was beheaded, despite his executioners' efforts to push him over. The chronicles record that an Ottoman Turk called Bersabei saw how bravely the Otrantines were dying, converted to Christianity and was impaled by his own comrades.

After thirty months Otranto was recaptured by an Aragonese force under Alfonso of Aragon, son of the king of Naples.

On 13 October 1481 the bodies of the Otrantines were found uncorrupted and were translated to the city's cathedral. From 1485 some of the martyrs' remains were transferred to Naples and placed under the altar of the Our Lady of the Rosary in the church of Santa Caterina a Formiello – that altar commemorated the final Christian victory over the Ottomans at Lepanto in 1571. They were later moved to the reliquary chapel, consecrated by pope Orsini, then to a site under the altar where they are now sited. A recognitio canonica between 2002 and 2003 confirmed their authenticity. … …

… The martyrs will be canonized on 12 May 2013 – this was announced in a consistory on 11 February 2013, during which Benedict also announced in Latin his intention to renounce the papacy, taking effect on 28 February.