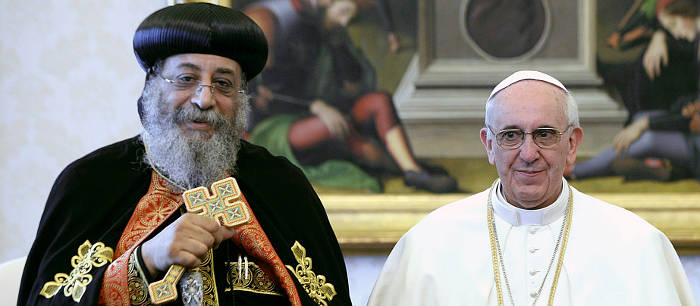 Det er avisa Dagen skriver om dette. De sier at "Paven ønsker forsoning …", men artikkelen er tatt fra NTB, og noen ganger har man lurt på hvor mye de kan om kirkelige spørsmål. Påaven – og Den katolske Kirke – ønsker alltidd forasoning med alle, men hvor realistisk det er å tenke på en snarlig full forsoning, er vel et helt annet spørsmål. Slik skriver NTB:
Den ka­tols­ke og den kop­tisk-or­to­dok­se kir­ken har en his­to­risk mu­lig­het til å re­pa­re­re spli­den seg imel­lom, mener pave Frans. Fre­dag hils­te han kop­ter­nes pave Ta­wa­dros II vel­kom­men i Va­ti­ka­net.

Det er førs­te gang på 40 år at en kop­tisk kirke­le­der be­sø­ker ka­to­lik­ke­nes høy­borg. Det er også Ta­wa­dros' førs­te tur uten­for Egypts gren­ser siden han ble ut­pekt til pave i no­vem­ber i fjor. Siste gang pa­ve­ne fra de to tros­sam­fun­ne­ne møt­tes, var i 1973, da kop­ter­nes pave Shen­ou­da III møte pave Paul VI.

Pave Frans min­net om at de to kirke­le­der­ne den gang hadde satt ut på en ferd mot fred og for­soning, etter år­hund­rer med teo­lo­gisk dis­tan­se, og sa at han er over­be­vist om at det er mulig å ta nye skritt mot en full for­soning og sam­ling.

Den kop­tisk-or­to­dok­se kir­ken brøt med stor­kir­ken i år 451 fordi den, sam­men med flere andre øst­li­ge kir­ker, ikke god­tok be­slut­nin­gen om Kris­ti to na­tu­rer, en jor­disk og en gud­dom­me­lig.