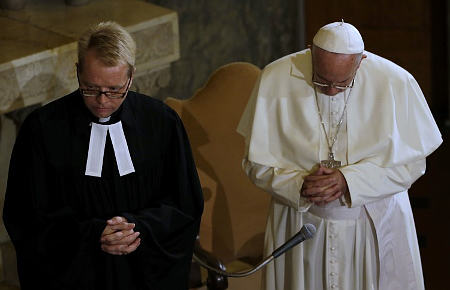 Pave Frans var i Romas lutherske kirke søndag kveld, og fikk da et spørsmål fra en luthersk kvinne som lurte på om hun kunne motta katolsk kommunion/ nattverd når hun gikk i kirken sammen med sin katolske mann. Paven svarte ganske langt og nokså uklart, men så ut til å antyde at hun her måtte følge sin egen samvittighet. Men han la også til:
The Pope added: "I wouldn't ever dare to allow this, because it's not my competence. One baptism, one Lord, one faith. Talk to the Lord and then go forward. I don't dare to say anything more."
Jeg har lest om dette her – Catholic Herald og Father Z skriver også om det.