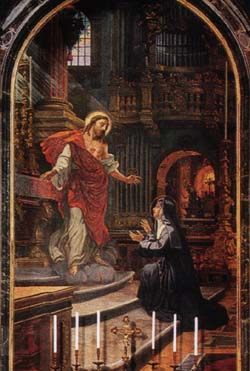 De siste ukene har jeg mange morgener feiret messe ved Jesu-hjerte-alteret i Peterskirken. Det er kort vei fra sakristiet til dette alteret, og siden jeg ber sakristanene om å lede meg til et ledig alter, blir det ofte dette – siden det nå (jeg merket det så snart november begynte) er færre mennesker både i Roma og i Peterskirken, og flere ledige altere.
Om dette alteret kan vi lese følgende:
The Altar of the Sacred Heart, which on the occasion of St. Margaret Mary Alacoque's canonization in 1923 (1920?), was decorated with a mosaic inspired by a painting by Carlo Muccioli (1857-1933).
På katolsk.no leser vi om henne bl.a.:
I mars 1824 ble Margareta Marias «heroiske dyder» anerkjent av pave Leo XII (1823-29) og hun fikk tittelen Venerabilis («Ærverdig»). Da hennes grav ble kanonisk åpnet i juli 1830 skjedde to øyeblikkelige helbredelser. Hun ble saligkåret den 18. september 1864 (dokumentet (Breve) var datert den 19. august) av den salige pave Pius IX (1846-78) og helligkåret den 13. mai 1920 av pave Benedikt XV (1914-22) sammen med den hellige Jeanne d'Arc. Hennes tålmodighet og tillit under prøvelsene bidro sterkt til hennes helgenkåring. Hennes minnedag er 16. oktober, siden dødsdagen den 17. er opptatt av den hellige Ignatius av Antiokia. Hennes navn står i Martyrologium Romanum.

Hennes visjoner og belæringer har hatt stor innflytelse på katolikkenes fromhetsliv, særlig etter at Jesu-Hjerte-festen ble forordnet for hele Kirken i 1856. Hun etterlot seg en kortfattet og rørende selvbiografi. Hun deler tittelen «Det hellige Hjertes helgen» sammen med den hellige Johannes Eudes og den salige Claude la Colombière. Hun avbildes i salesiansk ordensdrakt mens hun holder et flammende hjerte, eller mens hun kneler foran Kristus som viser frem sitt hjerte for henne.
På denne oversikten over Peterskirken er det alter nr. 44, og sakristiet er nr. 28.