Jeg tar med i sin helhet en nyhetsmelding fra svenske Dagen, om pave Frans' besøk i Egypt nylig:
Det var under den romersk-katolske påven Franciskus besök i Egypten i helgen som Franciskus och den koptiske påven Tawadros II skrev under en gemensam deklaration i vilken de tackar Gud för ett närmande mellan kyrkorna och uttrycker avsikt att fortsätta arbeta för synlig enhet.

Den viktigaste punkten i deklarationen är den om dopet. Man förbinder sig att godta varandras dop, något som kommer att vara avgörande för kyrkornas fortsatta syn på varandra. Hittills har de som har konverterat kyrkorna emellan tvingats döpa sig på nytt.

Dessutom sätter man upp två mål som ska uppnås med fortsatt dialog: en gemensam översättning av Fader vår och ett gemensamt datum för påsken.

Därmed kommer den 28 april 2017 gå till historien som den viktigaste milstolpen i de katolsk-koptiska relationerna sedan maj 1973, då påvarna Paulus VI och Shenouda III satte stopp för århundraden av fiendskap kyrkorna emellan och inledde en ekumenisk dialog.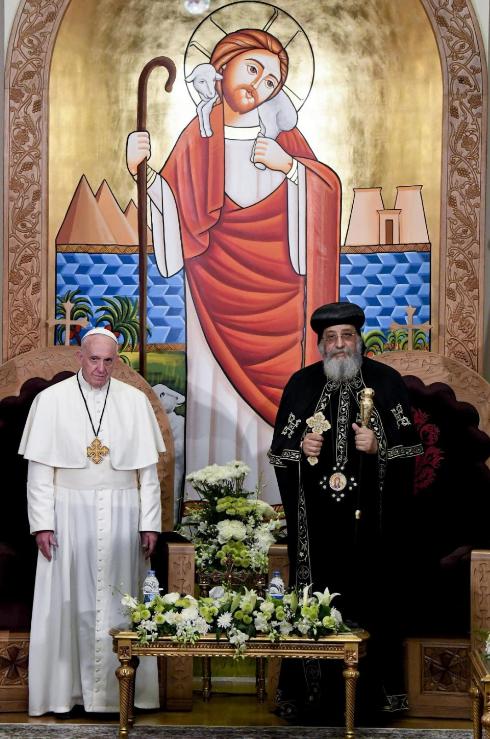 Felleserklæringen mellom pave Frans og den egyptiske paven Tawadros II kan man lese i sin helhet her (et stykke ned på siden), og der skriver de i pkt 11 om dåpen:
11. In obedience to the work of the Holy Spirit, who sanctifies the Church, keeps her throughout the ages, and leads her to full unity – that unity for which Jesus Christ prayed:

Today we, Pope Francis and Pope Tawadros II, in order to please the heart of the Lord Jesus, as well as that of our sons and daughters in the faith, mutually declare that we, with one mind and heart,will seek sincerely not to repeat the baptism that has been administered in either of our Churches for any person who wishes to join the other. This we confess in obedience to the Holy Scriptures and the faith of the three Ecumenical Councils assembled in Nicaea, Constantinople and Ephesus.

We ask God our Father to guide us, in the times and by the means that the Holy Spirit will choose, to full unity in the mystical Body of Christ.