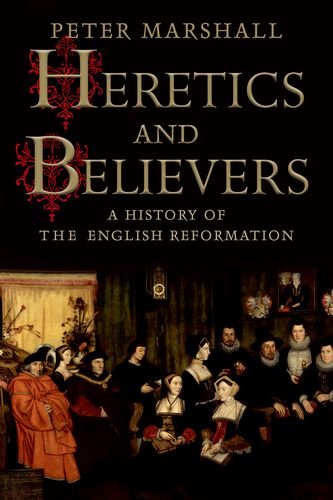 Nå har jeg lest ferdig Peter Marshalls bok Heretics and Believers: A History of the English Reformation. Det var interessant lesning, der rundt 70 år av engelsk kirkehistorie (ca 1520-1590) blir gjennomgått år for år, noen ganger uke for uke. Det viser hvordan de ulike monarkene, Henry, Edward, Mary og Elizabeth, bestemte hvordan mennesker i England og Wales (Irland og Skottland nevnes bare noe få ganger) skulle tro og oppføre seg i kirkene.
Så langt jeg kan se er dette en rettferdig framstilling av hva som skjedde, om hvor populær Den katolske kirke var i mesteparten av England (med noen få områder der en del mennesker hadde protestantiske sympatier) og hvor mye makt som ble brukt fra begge sider (flere ganger gis det presise tall over hvor mange som ble fengslet, flyktet fra landet eller ble drept).
Det har tatt ei uke å lese disse 600 sidene, men det har vært interessant og nyttig.