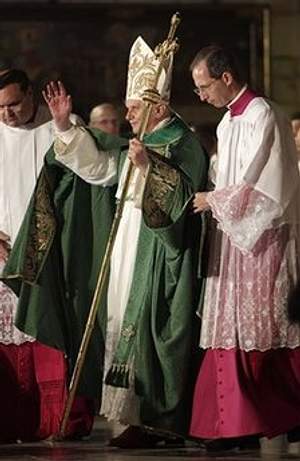 Jeg fikk en begeistret telefon i går kveld, fra et katolsk ektepar som satt og så på pavens vesper i Praha, direkte på internett fra EWTN. Kirken, musikken, liturgie etc. var helt fantastisk forstod jeg. Vi som ikke fikk se vesperen på TV eller video, får klare oss med dette bildet, og med pavens tale ved denne anledningen:
Dear Brothers and Sisters,
I greet all of you in the words of Saint Paul that we have just heard in our Scripture reading: Grace and peace to you from God our Father! First of all I address these words to the Cardinal Archbishop, whom I thank for his gracious words. I extend my greeting to the other Cardinals and Bishops present, to the priests and deacons, the seminarians, men and women religious, to the catechists and pastoral workers, to the young people, the families, and to the representatives of ecclesial associations and movements.
We are gathered this evening in a place that is dear to you, a place that is a visible sign of the power of divine grace acting in the hearts of believers. The beauty of this thousand-year-old church is indeed a living testimony to your people's rich history of faith and Christian tradition: a history that is illuminated in particular by the faithfulness of those who sealed their adherence to Christ and to the Church by martyrdom. I am thinking of Saint Wenceslaus, Saint Adalbert and Saint John Nepomuk, milestones in your Church's history, to whom we may add the example of the young Saint Vitus, who preferred to die a martyr's death rather than betray Christ, and the examples of the monk Saint Procopius and Saint Ludmila. From the twentieth century, I recall the experiences of two Archbishops of this local Church, Cardinals Josef Beran and František Tomášek, and of many Bishops, priests, men and women religious, and lay faithful, who resisted Communist persecution with heroic fortitude, even to the sacrifice of their lives. …
…
Dear Brothers and Sisters, with gratitude to the Lord, we shall be marking a number of anniversaries this year: the 280th anniversary of the canonization of Saint John Nepomuk, the 80th anniversary of the dedication of Saint Vitus' Cathedral, and the 20th anniversary of the canonization of Saint Agnes of Bohemia, the event which heralded your country's deliverance from atheist oppression. All these are good reasons for persevering in the journey of faith with joy and enthusiasm, counting on the maternal intercession of Mary, Mother of God, and all your Patron Saints. Amen!