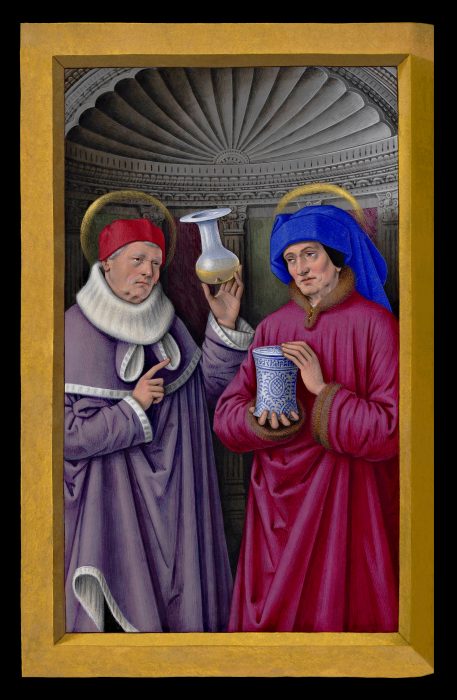 I dag feirer Den katolske kirke den hellige Kosmas og den hellige Damian, som bl.a. kalles αναργυροι, fordi de ikke tok imot betaling/sølv for sine medisinske tjenester. På katolsk.no kan vi bl.a. lese:
Det fortelles at Kosmas og Damian var tvillingbrødre og født i Arabia. De studerte medisin i Syria, og da de hadde tatt eksamen, dro de straks for å utøve legekunsten på Guds Sønns Hospital i Pheremma ved Kyrros (i dag ruiner ved A'zaz i Syria). De var svært dyktige, men var nøye med ikke å ta seg betalt for sine velgjerninger, og ble kalt anargyroi («de hellige uten sølv»). De mente at som kristne var dette den beste form for nestekjærlighet de kunne drive. De gjorde ingen hemmelighet av sin tro og skal ha utført mange helbredelser og gjennom det også omvendt mange til kristendommen. Det blir fortalt hvordan de to legene, assistert av engler, tok av et bein som var oppspist av kreft og satte på et nytt i stedet, som Damian hadde tatt fra en mann som akkurat var død. Under keiser Carinus (283-285) ble de drept av en sjalu kollega.
Vi ser bilde av dette medisinske underet under. Klikk på alle bildene for å se mye større utgaver.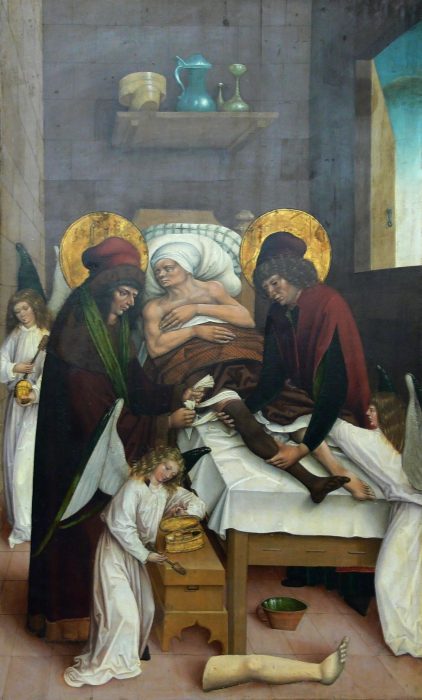 Nederst ser vi et bilde fra kirken Santi Cosma e Damiano i Roma. På Wikipedia kan vi lese om denne:
The basilica of Santi Cosma e Damiano is a church in Rome, Italy. The lower portion of the building is accessible through the Roman Forum and incorporates original Roman buildings, but the entrance to the upper level is outside the Forum. The circular building located at the entrance of the Forum, which now houses a small archeological exhibit, was built in the early 4th century as a Roman temple. It is thought to have been dedicated to Valerius Romulus, deified son of the emperor Maxentius. The main building was perhaps the library of an imperial forum.

It became a church in 527 and contains important but much restored early Christian art, especially in its mosaics.

Today it is one of the ancient churches called tituli, of which cardinals are patrons as cardinal-deacons: the current Cardinal Deacon of the Titulus Ss. Cosmae et Damiani is Beniamino Stella, created Cardinal on 22 February 2014. The basilica, devoted to the two Arabian Christian brothers, doctors, martyrs and saints Cosmas and Damian, is located in the Forum of Vespasian, also known as the Forum of Peace.