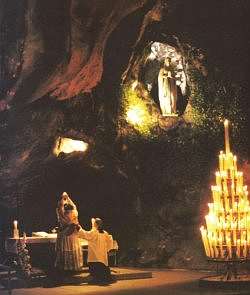 Mgr Ignacio Barreiro skriver for noen måneder siden om reaksjonen etter at pave Benedikt "frigjorde" den gamle messen; om katolikkers reaksjoner, om biskoper som gjør det lett eller vanskelig for prestene å følge pavens tillatelse, om flere ting som følger med den gamle messen (eks. knele ved kommunionen og motta i munnen).
We have witnessed different reactions among bishops, groups of bishops or individuals who have publicly commented on this fundamental new law of the Church. Some of these reactions have been very positive and encouraging, others have been restrictive and erroneous. I am not surprised at this problematic interpretation; many of us predicted that the implementation of the Apostolic Letter, Summorum Pontificum of 7 July 2007 was not going to be easy.
Father Z. viser nå til denne artikkelen og kommenterer den; han er enig i mye som står der, men ikke alt – og flere av leserne har skrevet interessante kommentarer. SE HER.