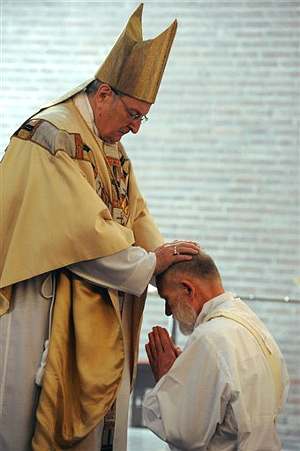 Vi kan lese på veldig mange nettaviser (bl..a. her) følgende melding fra Associated Press:
In a rare move that needed the pope's approval, a Lutheran convert was ordained Tuesday as a Catholic priest in Germany and is being allowed to remain married to his wife – who has already become a nun.

Harm Klueting, 61, was ordained by Archbishop Joachim Cardinal Meisner in a private ceremony at the city's seminary, the Cologne archdiocese said. Pope Benedict XVI gave Klueting a special permission to remain married to his wife Edeltraut Klueting, who became a Catholic Carmelite nun in 2004.

The Rev. Federico Lombardi, the Vatican's chief spokesman, said the exception is rare but there have been similar cases. "It doesn't happen every day," he said.

Klueting and his wife were Lutherans when they married in 1977 and both served as Lutheran clerics before converting to Catholicism several years ago. They have two grown children. …
At en gift, tidligere luthersk prest blir katolikk, er ikke så veldig uvanlig, men at hans kone skal være nonne, har jeg ikke hørt om før. Når viser det seg at konen ikke er nonne, men tredjegrads karmelitt (T.OCarm). Les mer om dette hos kirkerettseksperten Edward Peters og hos father Z. Både p. Harm Klueting og fruen, Edeltraud, er professorer – den nyordinerte presten sågar dobbeltprofessor – i historie og teologi.