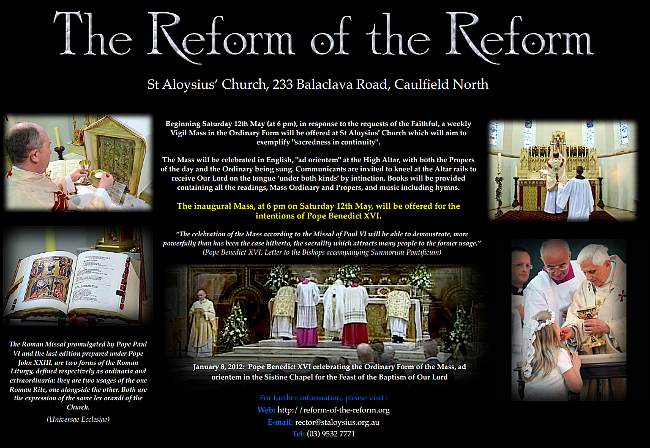 NLM-bloggen skrev i går kveld om en gruppe i Australia – The Catholic Community of Bl. John Henry Newman, attached to the Extraordinary Form of the Roman Rite in the Archdiocese of Melbourne – som nå også skal begynne å feire en ukentlig messe etter 1970-missalet. De skriver på egne nettsider de har kalt Reform av reformen:
The promulgation of the new translation of the Roman Missal of 1970, invites us to reflect further on the "hermeneutic of continuity" articulated by Pope Benedict XVI, and the importance of this being demonstrated consistently in the celebration of the Ordinary Form of the Roman Rite.

Beginning Saturday 12th May (at 6 pm), a weekly Vigil Mass in the Ordinary Form will be offered at St Aloysius' Church, 233 Balaclava Rd, Caulfield, which will try to exemplify "sacredness in continuity". The Mass will be celebrated in English, "ad orientem" at the High Altar, and with both the Propers and Ordinary of the Mass being sung. Following the example of Pope Benedict XVI, Communicants will be invited to receive Holy Communion on the tongue, whilst kneeling at the Altar rails. …
Den første messen de feirer slik, lørdag 12. mai, "will be offered for the intentions of Pope Benedict XVI."
Hvorfor gjør de dette? spør noen, for flere som foretrekker den tradisjonelle messen, liker nemlig ikke den nye messen særlig godt – og debatten har allerede begynt på NLM-bloggen. De ser ut til å ønske å gjøre det for å vise at den nye messen også kan feires verdig, med god sang, ved et tradisjonelt alter etc., og for å vise at den tradisjonelle messen på en positiv måte kan påvirke den nye – slik pave Benedikt har antydet.