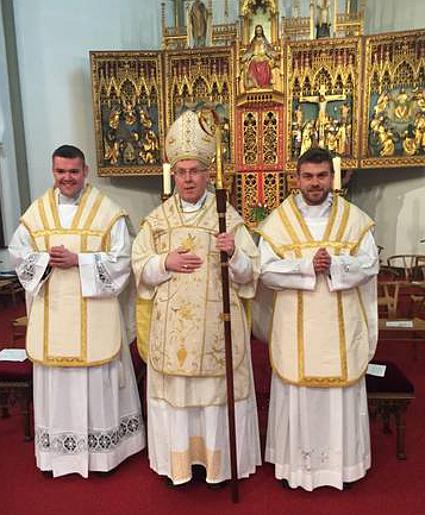 Lørdag før palmesøndag, 19. mars, ble to unge menn ordinert til katolske prester i København. Vi leste i avisene her i Oslo at fire unge norske prester var til stede ved denne ordinasjonen, og akkurat nå har jeg besøk at to amerikanske prester, som har kommet til Norden pga disse prestevielsene. Den ene amerikanske presten skal bl.a. være diakon i en tradisjonell høymesse (levittmesse ble det kalt i Norge) som den ene nyordinerte presten skal feire i København kommende søndag. Vi kan lese bl.a. dette om ordinasjonene:
Ikke én siddeplads var ledig i Jesu Hjerte Kirke i København, da biskop Czeslaw Kozon på Sct. Josefs festdag, lørdag den 19. marts, præsteviede Jan Hansen og Kasper Baadsgaard-Jensen. Familie og venner, repræsentanter fra menighederne i Vejle, Fredericia og Aarhus – hvor Kasper og Jan har været i praktik det sidste år – og katolikker fra hele Storkøbenhavn samt præster og diakoner fra ind- og udland udgjorde den festlige og flotte ramme om præstevielserne.

Efter i flere år at have talt om præstemangel i bispedømmet føjer Jan og Kasper sig nu til rækken af fem nye præster, som biskop Czeslaw har viet til præstegerningen i løbet af de seneste seks måneder, idet biskoppen 3. oktober sidste år viede Davide de Nigris, Mate Rada og Gilberto Vinciguerra til præster i Sct. Knud Lavard Kirke.

Biskop Czeslaw tog i sin prædiken udgangspunkt i at Jan og Kasper blev præsteviede på Sct. Josefs festdag – som "I for resten af jeres liv kommer til at forbinde med denne vigtige begivenhed" – hvor man fejrer den hellige Josef som Kirkens værnehelgen.
De to amerikanske prestene som nå er her i Oslo fortsetter sine studier i Roma og bor på det store amerikanske seminaret der, kan fortelle at det hver lørdag feires tradisjonell høymesse der, og at opp mot 100 av de 225 seminaristene deltar i disse messene (ikke alle hver lørdag). Tydeligvis er interessen for den tradisjonelle messen forholdsvis stor enkelte steder, selv om man ikek merker så mye til det i Norge.
Og her er teksten og bildet som "avslører" de norske prestene som reiste til København til prestevielsen.