Se de flotte bildene av pave Benedikt – en søt liten gutt og en ivrig, sympatisk ung prest, i tillegg til bildene fra vår tid. Jeg kom over Peter Seewalds nye bok som rett og slett heter: Pope Benedikt XVI. Jeg har lest de to tidligere bøkene Seewald har skrever om Ratzinger, og skal vel om ikke lenge lese denne også.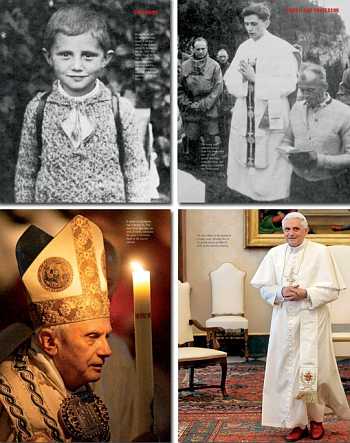 På Amazons sider leser vi følgende om boken: Do you know the real Pope Benedict? Journalist Peter Seewald does. After writing an unfair attack on Cardinal Ratzinger, he was urged by Catholic readers to meet with the man he was maligning. He did so—and the result was two book-length interviews, Salt of the Earth and God and the World. Seewald also returned to his Catholic faith, saying that Ratzinger was the one who "taught me what it meant to swim against the stream."
This book, written mainly by Seewald, describes the paths of Joseph Ratzinger's life from his birthplace in Bavaria all the way to being the first German Pope in 482 years. It is lavishly illustrated with a collection of over 150 of some of the most personal, and most surprising, photographs. These show the Pope as he really is: "a humble servant in the vineyard of the Lord".