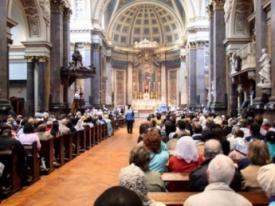 Jeg leste nettopp en liten artikkel om et besøk i The London Oratory, i nærheten av Kensington i London. Jeg var selv til søndagsmesse i denne kirken noen ganger i løpet av mitt år på presteseminaret Allen Hall, i Chelsea. De hadde den mest høytidelige liturgien jeg noen gang har vært med på; alltid messe på latin (bortsett fra lesninger og preken), og også noen få elementer fra den gamle messen, som trinnbønnen i starten av messen. Hele messen ble også sunget at det (flott) kor, men jeg syntes nok at menigheten kunne ha deltatt noe mer; ofte var det bare Credo menigheten kunne synge med på.
I bloggen The New Liurgical Movement» leser vi om besøket i samme kirke:
I had the blessed opportunity to visit the London Oratory for their main Sunday Mass, as well as Solemn Vespers and it was a moving experience to say the least. A gorgeous piece of sacred architecture with more side altars than one can count, and well done liturgics in all regards completed the picture. Wonderful as well to see were the inclusion of the Tridentine liturgy in this parish at various times. Let us hope and pray that this harmonious co-existence becomes more normative in more parishes with the forthcoming liberalization. I cannot but recommend that if you get the opportunity to visit the London Oratory, you simply must. It is a gem within the Church and a beacon to be certain.