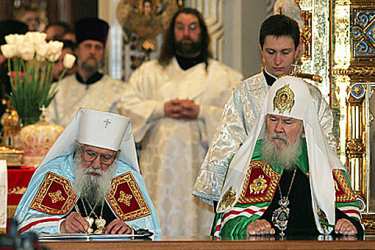 Her i Stavanger låner vi ut vårt kapell til de russisk-ortodokse en gang i måneden, denne helga er de her både fredag kveld og lørdag formiddag. I går kveld nevnte en av dem til meg den gledelige gjenforeninga av de russik-ortodokse i og utenfor Russland. Jeg hadde så vidt hørt om gjenforeningsseremonien som skjedde i Moskva 17. mai, og her har jeg funnet litt mer stoff:
As bells pealed and worshippers wept, Russian Orthodox leaders signed a pact Thursday to heal an 80-year schism between the church in Russia and an offshoot set up abroad following the Bolshevik Revolution.
«A historic event awaited for long, long years has occurred. The unity of the Russian church is restored,» Moscow Patriarch Alexy II said before signing the agreement with Metropolitan Laurus, head of the Russian Orthodox Church Outside of Russia. That branch split off in anger when the Russian church declined to defy the Communist government.