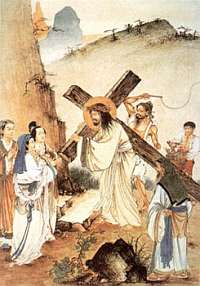 I år hadde pave Benedikt bedt kardinal Joseph Zen Ze-kiun fra Hong Kong om å forberede den tradisjonelle korsveien (utendørs) i Roma Langfredag. Det følger med bilder laget av kinesiske kunstnere, og korsveien bygger også direkte på Markus-evangeliet, og har ikke med alle stasjonene vi katolikker er vant med, bl.a. ikke Veronika med svetteduken.
In his meditation for the 14th, and last, station — «Jesus is placed in the tomb» — the cardinal recalled the long wait between Jesus' burial and his resurrection three days later. Even his strongest disciples grew weary in waiting, he wrote.
He asked, «Are we not right in being in a hurry» and wanting to see an immediate victory of Christ over evil?
Cardinal Zen said perhaps «it is our victory we are eager to witness» and prayed for perseverance and patience, reminding the faithful that God promised to be with his children to the end of time.