Vi legger merke til (ved hjelp av Damian Thompson) at pavemessene i 1982 og i år er ganske forskjellige. Vi ser at det ekstra bordalteret nå er borte, og at det store høyalteret brukes (det var helt skjult i 1982), selv om messen fortsatt feires versus populum.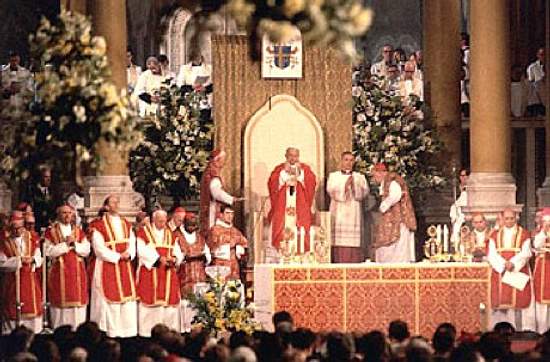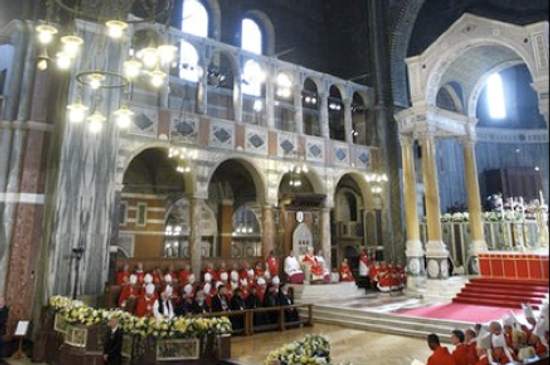 Om man ønsker å se videoer av hele messen, kan man gå hit.
Hele pave Benedikts preken denne lørdagen finner man her – og han startet prekenen slik:
Dear friends in Christ,

I greet all of you with the joy in the Lord and I thank you for your warm reception. … Truly, in this meeting of the Successor of Peter and the faithful of Britain, "heart speaks unto heart" as we rejoice in the love of Christ and in our common profession of the Catholic faith which comes to us from the Apostles. I am especially happy that our meeting takes place in this Cathedral dedicated to the Most Precious Blood, which is the sign of God's redemptive mercy poured out upon the world through the passion, death and resurrection of his Son, our Lord Jesus Christ. …

The visitor to this Cathedral cannot fail to be struck by the great crucifix dominating the nave, which portrays Christ's body, crushed by suffering, overwhelmed by sorrow, the innocent victim whose death has reconciled us with the Father and given us a share in the very life of God. The Lord's outstretched arms seem to embrace this entire church, lifting up to the Father all the ranks of the faithful who gather around the altar of the Eucharistic sacrifice and share in its fruits. The crucified Lord stands above and before us as the source of our life and salvation, "the high priest of the good things to come", as the author of the Letter to the Hebrews calls him in today's first reading (Heb 9:11). ….