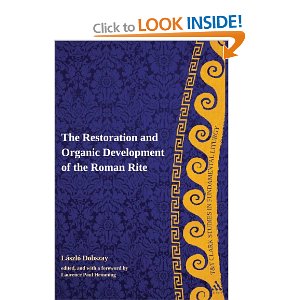 Også denne boka handler om liturgien (selvsagt), dens utvikling nærmere bestemt – og jeg begynte på den i går. Tittelen er The Restoration and Organic Development of the Roman Rite, og den kan bestilles på Amazon her.
Slik beskrives boka hos Amazon:
This is a serious, scholarly of liturgy analysis combining historical, philosophical, musicological and liturgical. The volume, like the series, will be aimed at moving the debate about liturgy out of the narrow confines of either 'pastoral liturgy', 'reform of the reform' or nostalgia and bemoaning of the ruination of liturgical tradition to an entirely higher plane, of serious, scholarly, measured analysis combining historical, philosophical, musicological and liturgical. This book advances a provocative and controversial set of proposals for the development of future liturgical reform in its attempt to re-engage with a traditional sense of the Roman Rite. The author is uniquely placed to make the case he does. A mediaevalist and musicologist of unparalleled experience and breadth, Dobszay combines – almost uniquely – a profound knowledge of the history of the development of the Roman Rite – especially the Antiphonary – with a personal interest and passionate concern for the lived experience of the rite itself. The result is a lively and vigorous text based around the idea of the actual liturgical sense of the Roman Rite – meaning a respect for its integrity as an historical tradition that found multiform expression across Europe and also across at least 1600 years, combined with a sympathy for the fact that the rite is still a living entity with a long future ahead of it.