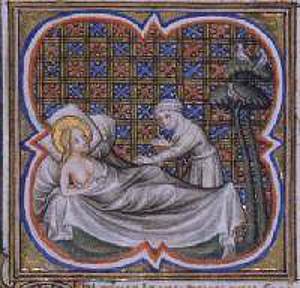 Slik leser vi i dag til Mqatutin (i den tradisjonelle kalenderen):
From her childhood Elizabeth, daughter of Andrew, king of Hungary, began to fear God; and she grew in holiness as she grew in age. When she was married to Ludwig, Landgrave of Hesse and Thuringia, she devoted herself no less to the service of God than to the welfare of her husband. She was constant in prayer and in the works of mercy, zealously serving widows, orphans, the sick and the needy, for whom she built a fine hospital. When her husband died, she put on a coarse garment and, in order to serve God more freely, entered the Order of Penitents of St. Francis, where she shone most especially with the virtues of patience and humility. These virtues she showed when she was despoiled of her possessions, driven from her home and abandoned by all. With unconquered spirit she endured insults, derision and detractions, even rejoicing greatly that she could suffer such things for God. Having passed her life most religiously in holy works, she fell asleep in the Lord. Famous for miracles, she was enrolled among the Saints by Gregory IX.
Noen stusser nok over datoen, siden mange feiret Elisabeth for to dager siden. På katolske.no forklares dette på slutten av en grundig artikkel om den hellige Elisabeth av Ungarn:
… Elisabeth av Ungarn (av Thüringen) har alltid vært en av de mest elskede helgener i Tyskland. Med henne som forbilde driver St. Elisabeth-søstrene stadig sitt arbeid for fattige og syke, og de har vært og er representert flere steder i Norge. Kongregasjonen ble stiftet i 1842 i Neisse i Schlesien, den fikk sin kirkelige godkjennelse i 1859. I 1986 hadde kongregasjonen ca 3.000 søstre som arbeidet i Afrika, Italia, Jerusalem, Polen, Tyskland og Skandinavia, og deres virkefelt omfatter alle former for sosial omsorg. Siden 1200-tallet har hun vært skytshelgen for fransiskanertertiarer, sammen med den hellige Ludvig IX.

Helt fra sin død ble Elisabeth populær blant kunstnere. Hun avbildes enten som grevinne med krone eller som fransiskanertertiar mens hun hjelper nødstilte. Ofte har hun roser i fanget.

Elisabeths minnedag ble innskrevet i den romerske kalender i 1474. Tidligere ble hun minnet den 19. november, begravelsesdagen. Hennes minnedag er nå dødsdagen 17. november. I Tyskland minnes hun fortsatt 19. november. I tillegg til i fransiskanerordenen æres hun også høyt i dominikanerordenen (siden 1244) og i cistercienserordenen (siden 1236).