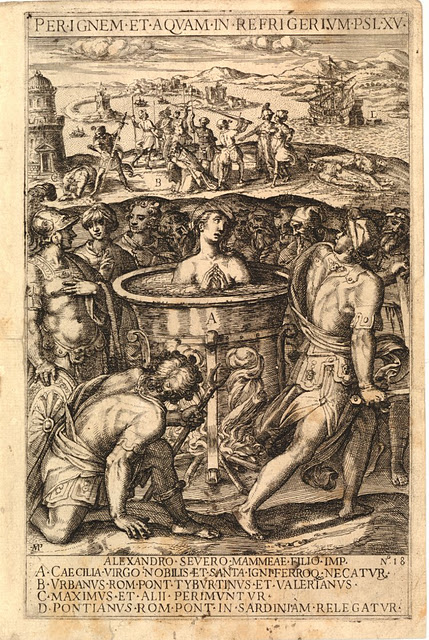 After Niccolò Circignani called «Il Pomarancio» (c. 1517/1524 – after 1596)
Print made by Monogrammist MP (16th C. late – 17th C. early; fl)
Church martyrs, with in the foreground St Cecilia standing in a cauldron of boiling water.
After the fresco executed in San Stefano Rotondo by Niccolò Circignani
Engraving
268 millimetres x 171 millimetres
The British Museum, London
Jeg fant bildet over og følgende informasjon HER:
Nicola Circignani's cycle of the early Christian martyrs (1582) in the ambulatory of the Jesuit church of San Stefano Rotondo was one of the most celebrated of the numerous martyrdom cycles in Rome during the last twenty years of the sixteenth century. It consisted of thirty-one frescoes each depicting a scene of horrendous martyrdom within the early Church

The cycles were part of the Catholic response to the Protestant martyrologies such as John Foxe's Acts and Monuments

One of the main themes of the Pontificate of Gregory XIII (1572-1585) was an Early Christian revival which took shape in Rome. Early Christendom was referred to as a Golden Age in the history of the Church. …

… In the cycle (of saints), the figure of St Cecilia was one of the major scenes. She died about AD 230 with her husband Valerian, his brother Tiburtius, and a Roman soldier Maximus. She was already a popular Roman saint.

But it was only in 1594 that she was officially made the Patron Saint of Music – again by decree of Gregory XIII, a patronage which give a boost to her cult.