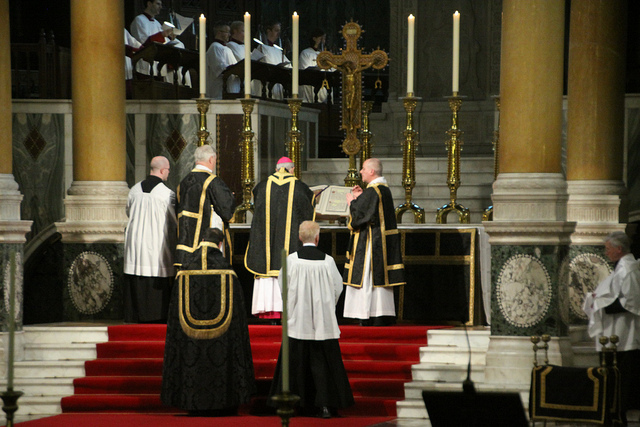 Latin Mass Society i England har en årlig requiemmesse for avdøde medlemmer – i år var det lørdag 19. november. Om denne messen kan vi lese:
Yesterday was the LMS' Annual Requiem for our deceased members, a Pontifical Mass in Westminster Cathedral celebrated by Bishop Alan Hopes. Fr Andrew Southwell, the LMS Chaplain, was assistant priest; Fr Tim Finigan was Deacon, Fr David Irwin Subdeacon.

Before Mass, we had our customary prayers for Cardinal Heenan. I layed a wreath on his tomb in the Cathedral; the prayers were led by Fr Patrick Haywood. The current issue of the Mass of Ages has a feature on the 'Heenan Indult', which the Cardinal personally requested (at the request of the Latin Mass Society) from Pope Paul VI, in 1971, forty years ago this year. The importance of this, the first official permission for the Traditional Mass for the good of the faithful, is difficult to overstate. The permission was extended to the whole world only in 1984. …
Les mer om dette (og se flere bilder) HER.