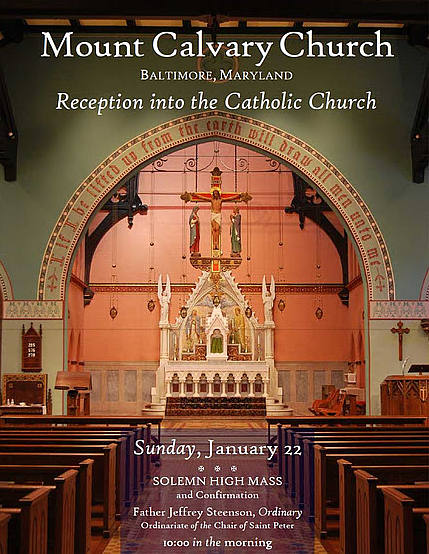 I dag blir flere prester og ca 40 medlemmer av en tidligere anglikansk menighet i Maryland tatt opp i Den katolske Kirke – og for et flott alter de har!
Cardinal-designate Edwin F. O'Brien, apostolic administrator of the Archdiocese of Baltimore, announced Jan. 19 that Mount Calvary Church, a Baltimore parish of the Episcopal Diocese of Maryland, will be received into full communion with the Roman Catholic Church through the newly created Anglican Ordinariate for the United States.

Father Jason Catania, Mount Calvary's pastor, informed the archdiocese that it has reached an agreement with the Episcopal Diocese of Maryland, effectively ending the parish's 169-year history with the Anglican Church. In October 2010, the parish's vestry unanimously voted to leave the Episcopal Church and to become an Anglican-use Catholic parish. …..

Mount Calvary is expected to be the first Anglican-use community in the United States to enter the Catholic Church through the new Anglican Ordinariate since it was announced Jan. 1. The head of the new ordinariate, Father Jeffrey N. Steenson, will receive Father Catania, three fellow priests and 40 parishioners on Jan. 22 at Mount Calvary.