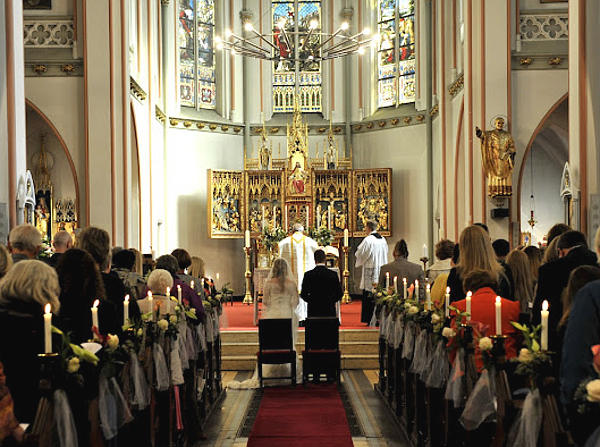 Det flotte bildet over er fra en katolsk vielse i København for noe dager siden, der Kirkens tradisjonelle liturgi ble brukt – i selve vielsen (som komemr først) og i selve brudemessen. Rorate Cæli skriver om dette bl.a.:
The first wedding in Denmark according to the Traditional Roman Rite since the late 1960s-early 1970s liturgical upheaval took place on Saturday, September 15 at the historic Jesu Hjerte Kirke (Church of the Sacred Heart of Jesus) in Copenhagen. Both bride and groom are regular attendees at the Traditional Sunday Mass held twice a month in the same church.

… A great many non-Catholics and non-believers were present, and everyone, also those familiar with Catholic liturgy in the Ordinary Form, remarked that the ceremony was extraordinarily beautiful, mystical, and inspiring.
I Oslo vet jeg at det ble feiret en slik vielse (men nokså enkel, uten sang) for fire år siden, og jeg feiret selv en slik brudemesse (etter denne korte tradisjonelle vielse) i Nidarosdomen for to år siden. Det burde ikke være særlig sensasjonelt, og ikke noe uvanlig, at katolikker som ønsker det, kan velge den tradisjonelle liturgien så ofte de måtte ønske det. Den tradisjonelle messen og den tradisjonelle feiringen av alle sakramentene er jo fullt ut tillat over hele verden.