På nettstedet news.va leser vi at pave Benedikt i går reiste til Loreto – på samme måte som pave Johannes 23 reiste dit for nøyaktig 50 år siden:
Benedict XVI today made a pastoral visit to Loreto, Italy, where he entrusted to the Blessed Virgin – venerated in the famous Marian shrine there – two impending ecclesial events: the Synod of Bishops on new evangelisation which is to run from 7 to 28 October, and the Year of Faith which will begin on 11 October. The Holy Father's visit today was also intended to commemorate the fiftieth anniversary of Blessed Pope John XXIII's pilgrimage to Loreto during which, on the eve of the inauguration of Vatican II, he entrusted the Council to the Virgin.

The shrine of Loreto, which has been a pilgrim destination since the fourteenth century, conserves the house where Mary lived in Nazareth, the which, according to popular pious tradition, was transported by the angels to Loreto in 1294, shortly after the definitive expulsion of the Crusaders from the Holy Land. Recent examinations of documents and archaeological remains (excavations under the Holy House), as well as philological and iconographic studies, are giving increasing weight to the hypothesis that the stones of the Holy House were transported to Loreto by ship at the initiative of the aristocratic Angelos family which then ruled the region of Epirus. …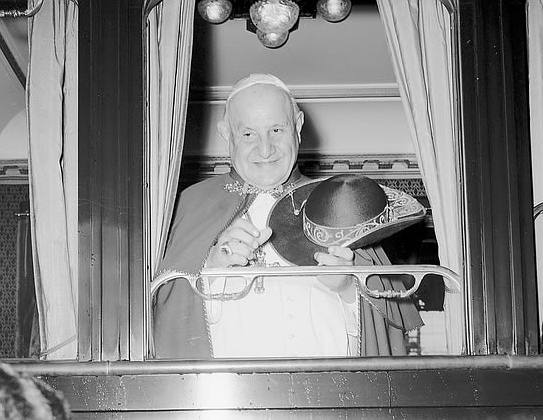 Bildet over viser pave Johannes 23 for 50 år siden – hans besøk i Loreto kan man lese om her.